39 long-serving health workers rewarded
16-April-2012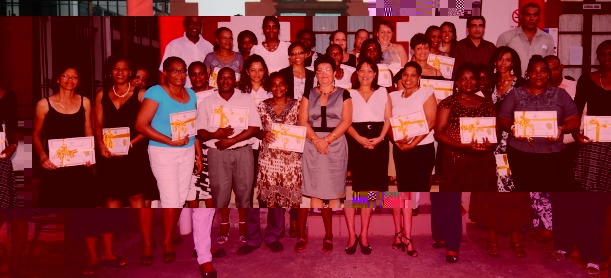 Held at the Red Roof building of the Seychelles Hospital, the event was attended by a large number of health workers who had come to celebrate their day. This year's event is celebrated under the theme 'Aging in Health'.
Present for the occasion were the Minister for Health Mitcy Larue, Minister for Labour and Human Resources Development Idith Alexander, principal secretary for health Veronique Laporte and members of the diplomatic corps.
Addressing the guests, Minister Larue wished everyone a happy health workers' day.
"When you chose to work in the health sector, I am sure you thought about what you were getting yourselves into. And today, you are health workers and whatever you do; your work is greatly valued. Thank you for choosing to be and to remain a health worker," she said.

The minister also called on all health care workers to look at ways to give more value to what they do and to get people to appreciate what they do more.
"I call on members of the public to support our health care workers in their noble work and while I have already met some of you, and listened to your plans and aspirations, I intend to visit all your units to talk to you," added Minister Larue.
Mrs Larue said there is a lot of work to do and while the infrastructure and physical facilities leave a lot to be desired in some areas, she said she was touched by the commitment and spirit of selflessness in their service to the people.
"Resources will never be enough as we continue to aim higher, and at the same time our clients' expectations continue to get even higher for our services and often, I dare say, get unrealistic for what can be afforded," she said.
The event also served to reward those who have completed training in various courses, such as basic first-aid, ergonomics for manual workers, Information Technology, health improvement programme, health information management, emergency transport coordination, and supervisory skills.
Prizes were also given out to those who had taken part in the ministry's sports day. Not only the winners of the many sports disciplines were rewarded, there was also an overall trophy for involvement, discipline and fair play.
The ministry of health, which employs over 1,500 people, said it will review the forthcoming celebrations so as to reward more people for their hard work.