New initiative to stop obesity
16-April-2012
The Minister for Health Mitcy Larue officially launched the programme in the presence of the Minister for Natural Resources and Industry Peter Sinon, and the chief executive of the Seychelles Agricultural Agency Mark Naiken.
Also present was public health commissioner Dr Jude Gédéon, director for family health and nutrition in the Ministry of Health Rosie Bistoquet, Au Cap school head teacher Fatima Agathine, Rev Christine Benoit, partners of the new programme and members from the Au Cap school council.
In her speech, Mrs Larue said the Ministry of Health and that of Education are working closely to try and combat obesity in children but need the support of parents as well.
"We are encouraging families to adopt healthy eating habits and a more active lifestyle for the safety of our children," she said.
She also thanked all partners working together with the Ministry of Health. This included the Ministry of Education, National Council for Children, National Sports Council and the Agricultural Agency.
In her campaign speech, Miss Bistoquet said the country's growing obesity epidemic is causing a lot of issues for children as well as adolescents.
She explained that the Ministry of Health has noticed a disturbing trend of complications in children due to obesity and that 19% of school children fit into that category.
She said that after several reports from concerned institutions had come in, in relation to obesity, the Ministry of Health has taken active steps to try and address the problem by liaising with other concerned parties like local industries, media, importers, the National Sports Council and National Children's council to name a few to ensure children remain at a safe weight for their age.
She explained this will be done through the programme launched which will promote preparation of healthy breakfasts, review snacks offered by school tuck-shops, training for people who grow fruits and vegetables and encourage children to become more active.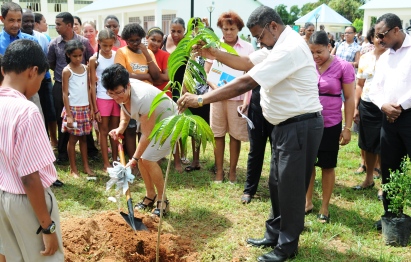 The launch was followed by the planting of fruit trees which were donated to the school by the Seychelles Agricultural Agency (SAA). This was done by Ministers Larue and Sinon as well as Mr Naiken from the SAA.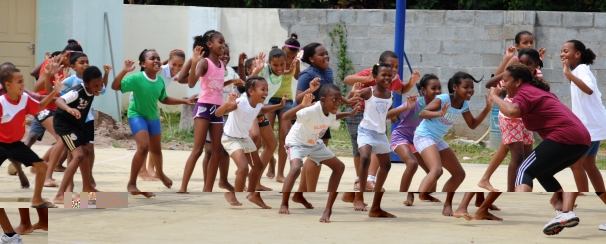 The school children took part in a sketch highlighting the risks of obesity and then learned how to keep fit with fitness instructor Dorothy Isidore.