Malta's valued health day gifts
17-April-2012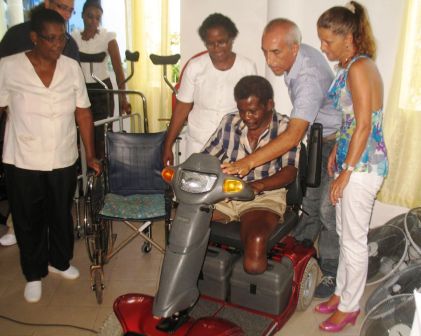 They included a scooter for resident Marcel Herminie who has lost both legs, wheelchairs and crutches for adults and children.
They were handed over by Mrs Azaïs in the presence of Health Minister Mitcy Larue, member of National Assembly Galen Bresson, principal secretary for health Veronique Laporte and World Health Organisation liaison officer Dr Cornelia Atsyor.
Also there were other dignitaries, Isabella Joubert, Valencia Joubert and as well as the management, staff and residents from the home.
Mrs Azaïs gave the items on behalf of Franca Berardi and the company La Grimana "to mark World Health Day which fell on April 7".
She said Mrs Berardi has joined the embassy as first secretary "and her gesture is even more appreciated because now she is part of the embassy".
"Through La Grimana she got the electric motor scooter offered to Mr Herminie."
Also present was Luigi Berardi – husband of Mrs Berardi – who presented a donation of crutches and wheelchairs provided together with Louis Low Hong of St Louis Car Hire which were received by Ms Valencia Joubert.
"The Embassy of the Order of Malta would like to thank La Grimana, Mrs Berardi and also the management and staff of the home for the elderly for their warm welcome and also the mechanic who ensured the scooter worked perfectly after the long trip from Europe, the media and everybody who contributed in any way to facilitate the donation," said Mrs Azaïs.