Up Close … with the Zenith band-'Zenith – the highest point in one's destiny'
17-April-2012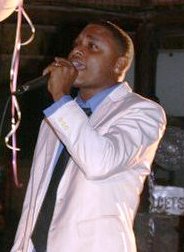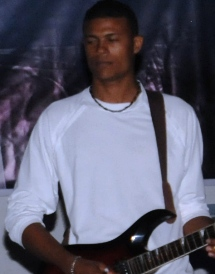 "We only had about a month to prepare for that one," said Roy Charlette as we were discussing the interview.
"Plus the songs we had to play were extremely challenging – but we'd do it again in a heartbeat," added his brother Brian Charlette.
This wasn't karaoke. Nope, this was a live band! The Zenith band to be precise.
I remember attending my first rehearsals up at Forêt Noire where they usually do their own practicing and where I got to know them a little better. I recall hearing them rehearse Heaven by Bryan Adams and thinking "These guys are amazing"!
So after all the excitement of the show had died down, I decided to get in touch with one of the starting band members, Roy Charlette, for a quick interview on the band.
We met at the pier – I and three of the band members – to talk about history and what it's like being part of such a close-knit team.
What a strange sight we must have been. The banker, the financier, the professional musician and the journalist...sounds almost like a book series.
And there I learned their story.
The Zenith band consists of drummer Roy Charlette, his brother Brian Charlette on the keyboard, Peter Jules on keyboard number two, Joel Tirant on lead guitar and Keren Jeannevol on bass guitar. The band's singers include Jude Beaudoin and Michel Marengo.
Zenith, originated from the group Zodiak of which Roy is the only survivor.
"We eventually reached a point where we just wanted to manage our own band," he said.
I'm sure many of the readers today are wondering "but why Zenith?" I admit I too was a little dumbfounded by the name until Roy enlightened me.
"Well Zenith basically means the highest point in one's destiny – the summit or the peak," he began.
"As a band, we needed to be at our peak in order to perform to the best of our abilities and we believe it is equally important to maintain that level of performance throughout – which has been the case since we formed the band back in 1996."
Like all new bands, Zenith too had to start somewhere.
"We needed equipment obviously and we got financial support – in terms of a loan – from the Development Bank of Seychelles. From there, the group flew to Singapore to buy equipment.
"Once we got back we were ready to rock"! he added with a cheeky grin.
And rock they did! Since their formation, Zenith has performed in almost all hotels on Mahe. This went on for 16 years after which the team relaxed a little and began performing regularly at the Berjaya Beau Vallon Bay Resort every Friday where they still play today.
Musical inspiration
Peter, being the lankiest of the bunch, stretched out his long limbs and declared, quite loudly I might add, "Kassav and Level 42 – I rather like their style and the sound of the keyboard is nothing short of fantastic...I also adore playing Sega music."
Brian, being more reserved seemed to ponder the question for a while before replying "Toto – outstanding keyboard playing."
I was starting to wonder why they like keyboards so much.
"The thing is," said Peter, "nowadays, less guitar is heard in commercial songs and more keyboards – usually one replacing the function of a guitar or whichever instrument. We only have one guitarist in our group and that's Joel."
"I enjoy songs with powerful lyrics such as Lis dans mes yeux by Garou and music by Cassiya, but I have to say the late Michael Jackson is my all-time idol. He is THE BOMB!" said Roy, specifically asking me to not re-write his comment in past tense.
What can I say, the guy really likes Michael Jackson!
On learning how to play
"I was literally born into a family of musicians," said Peter. "I guess you could say it's an inherited talent – I never really read notes and mostly played what I heard by ear."
"Same here," said Brian. "Mostly from what I hear – then I played for a while in church which is where I learned about the proper function of notes."
Roy had a longer story – "I was around nine when the drums found me, well, sort of – I would usually grab any empty tin or cans that I could get my hands on and "play" them until my dad could afford to buy me a real set of drums. I was around 12 at the time and I remember it being a huge deal! I felt on top of the world that day!" he remembered.
On keeping up with the times and promoting 'band' music
"Our repertoire is filled with hits from the 'oldies', both locally and international hits, as well as modern music," said Roy. We also try to specialise in modern dance music to keep a crowd on the dance floor. Hey, we get different demands!" he explained, laughing.
"It's important for us that people come to see Zenith for a reason and this may be interpreted as the uniqueness in terms of the types of music we select and is the reason we try to sound different from other bands. We want to capture our own audience and keep them."
"What he said," added Brian. "Each type of musician has a venue, each has a selected audience – so there's never much of competing with other kinds of entertainers like Djs for example – we do different things."
Life as a musician and our experiences
The band says one of their best memories together was travelling to Ottawa, Canada to perform during the fourth Jeux de La Francophonie in 2001.
"Wow, that was an amazing experience," said Brian. "The sound resonating through the theatre that night – I have never heard anything like that before or since."
"It was out of this world," Peter said, nodding his head in agreement.
"It was an amazing feeling playing in the same auditorium where people like Céline Dion have performed," added Roy.
When it comes to balancing out professional duties and their music, the band says they make it work somehow.
"After a while you get used to the lifestyle," said Brian. "Although it can get a bit hectic at times, I'm lucky because my wife helps out when I'm playing – you know, with the kids and everything home-related."
"Same here," said Peter while Roy backed away with his hands up in a sign of surrender.
"No kids," he laughed.
As for making a living out of playing in a band, they all agreed that if the group performed six nights a week then it would be profitable.
"Discipline is the key word however and a band usually consists of six or seven people and each member's contribution is vital to the group's success," explained Roy.
"I think all of us are going to keep playing though," said Brian. "It's become a way for me to de-stress."
Peter smiled, "I will die a musician."
"True! Once a musician always a musician – as long as we are wanted we will be there," said Roy.
Advice to aspiring bands
"Discipline and punctuality is what I would say," said Peter
"The desire to play," added Roy
"Just stick to it and don't give up no matter what comes in your way," chimed Brian.
By Rebecca Chang-Tave