Volleyball: National League-Arsu collect second consecutive win
17-April-2012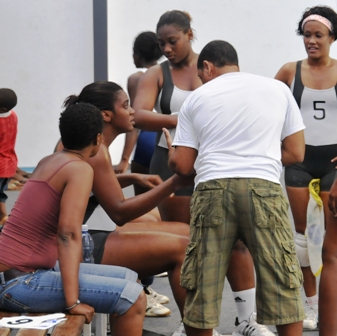 In the match which lasted for 68 minutes, Arsu easily won the first two sets 25-12 and 25-16, before getting strong resistance from OSC Comets in the third which ended 27-25. The win pushed Arsu to the top of the league table, while the defeat is the second straight for OSC Comets who had lost their first league match against La Digue.
Meanwhile, in the women's league division two, Island Girls registered their second straight win with a 3-1 victory over Saints United. After winning the first set 25-19, Island Girls were outplayed by their opponents in the second set which they lost 22-25. They, however, redeemed themselves in the third and fourth sets which they won 25-19 and 25-15 to win the match after 101 minutes of play.
It seemed that Saints United went straight to the drawing board after Saturday's defeat as they returned to the La Promenade Gymnasium the following day to register a 3-0 win against Mont Fleuri. The set scores were 25-20, 25-9 and 25-10.
In the third women's division two league match played during the weekend, Rainbow United registered a 3-0 (25-19, 25-13, 25-19) win over Roots Sisters.
In the only men's league division two match played, Juniors rallied past newcomers Airwaves with a narrow 3-2 victory, thus inflicting a second defeat on the latter.
After winning the first set 25-23, Juniors fell behind in the second which they lost 20-25. They fought back to win the third set 25-23, only to see Airwaves win the fourth 25-22 to tie the match at two sets apiece. Juniors came out stronger in the fifth and decisive set which they won 15-10 and the match 3-2 after 105 minutes of play.
R. D.