Assembly's team checks work progress on Ile Perseverance
18-April-2012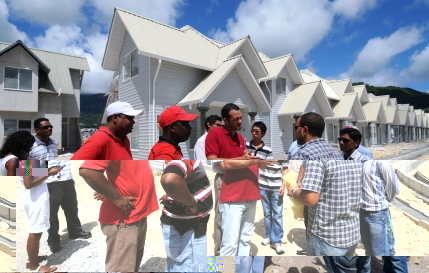 The method uses galvanised steel frame structures, wall insulation, cement-boards and PVC cladding as a finishing layer.
The assurance committee is tasked with overseeing if the government goes through with promises made in the National Assembly and often visits sites and projects.
The chairperson of the committee, Sheryl Vangadasamy, said in February the committee invited the Minister for Land Use & Housing, Christian Lionnet, to give updates on the assurance given by Vice-President Danny Faure in the budget address last year, when he said 250 houses will be built on Ile Perseverance by the end of the year.
"We are very satisfied and we see that the government will definitely be able to deliver 250 houses by the end of the year, and we have also seen the effort being made to give people better housing facilities," she said.
Speaking about certain concerns that the building materials were not suitable for Seychelles' climate and rendered the houses dangerous, Ms Vangadasamy said those claims were unfounded and that they were assured by government officials the houses were well up to par.

The acting principal secretary for land use & housing, Yves Choppy, said the houses will be at a more affordable price than other conventional houses and the Abu Dhabi company contracted to build the houses has already set up a local focal point, where people can go to get materials for maintenance.
"The houses come with a 12-month defect liability, where houses with a deficiency will be repaired by the contractor, but this does not apply to acts of vandalism," he said.
He added that prior to the houses being built, they had a prototype built as a sample and after monitoring its feasibility, improvements were made.
"As much as possible we have adapted the houses to fit the local context, and with the increasing prices in construction materials, the government is doing its best to explore new methods of building houses and making them available to the Seychellois people," he said.