Heritage Week launched -Local entrepreneurs urged to safeguard our heritage
18-April-2012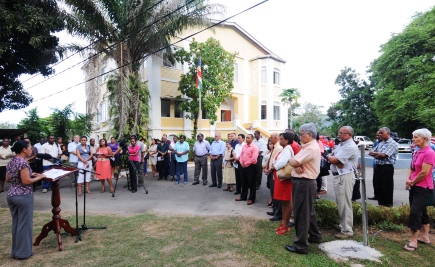 The call was made yesterday by the new principal secretary for Culture, Benjamine Rose, during the launch of Heritage Week.
The ceremony, held at La Bastille, was attended by the leader of government business in the National Assembly Marie-Antoinette Rose as well as the leader of the opposition in the National Assembly David Pierre.
Also present were members of the National Assembly and diplomatic corps and senior officers in the culture department.
Ms Rose said one of the biggest challenges in protecting and promoting our cultural heritage is funding.
She said local entrepreneurs can play their role and also adopt heritage sites.
She added that "since we are committed to share our tangible heritage with our visitors, we must also design a solid funding programme which will support the restoration and promotions of the heritage sector".
During the ceremony there was also the unveiling of plaques on the La Bastille building which gives information about this tangible heritage along with its history.
This was followed by the opening of an exhibition inside the La Bastille building on the intangible heritage of Seychelles.
Several stakeholders were also presented with a copy of an inventory of cultural and natural heritage sites of La Digue Island.
There was also a handover of United Nations Educational, Scientific and Cultural Organisation (Unesco) documents on heritages sites to the Seychelles Heritage Foundation.
The Seychelles tentative list of heritage sites to be presented to the Unesco was also handed over to Miss Rose.
The ceremony was also marked by the signing of adoption agreements for the Nageon Mausoleum (large tomb) at Au Cap and Puren Mausoleum at Ma Joie.
There was also the launching of the 'Memories of the Seychelles Heritage' -- a collection of articles by Tony Mathiot.
The International Heritage Day is being celebrated today, April 18, and the Heritage Week will go on until April 23.
Seychelles Nation will come back on yesterday's ceremony at La Bastille.