Blue Panorama Airline rep in 'way forward' talks
19-April-2012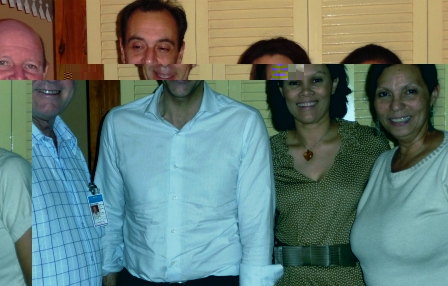 Remo Della Porta of Blue Panorama, his family and Monette Rose, the Seychelles Tourism Board's (STB) manager for Italy, flew into Seychelles in a flight full of Italian holidaymakers.
Mr Della Porta was received at the airport by Alain St Ange, the Seychelles Minister for Tourism and Culture, and Elsia Grandcourt, the chief executive of the STB.
The Blue Panorama Airline launched its weekly service to Seychelles following the announcement by Air Seychelles that it was dropping Italy from its flight schedule. The announcement for Blue Panorama of Italy to launch flights to Seychelles followed intense negotiations between the Italian airline and the Seychelles Civil Aviation Authority backed by the tourism board.
"Their first couple of flights to Seychelles were hard, but they are now better established with tour operators selling Seychelles and they are making headway into the Italian market.

The tourism board is working closely with Blue Panorama, and this is why Mr Della Porta was in Seychelles to see how the tourism board's Italy office can join into joint marketing and promotional exercises with them to ensure more visibility for Seychelles and in so doing entice more traffic to our islands," said Mr St Ange.
The STB said Seychelles continues to work with its partner airlines for the continued development of the destination. In the past many airlines discontinued their services to the islands due to the marketing of the islands being left primarily to them to undertake, and this resulted in inadequate visibility for Seychelles in the market place as airlines felt it was not their responsibility.
The tourism board today works with the airlines to stimulate the market. They have offices in key markets and they ensure Seychelles is represented at the main tourism trade fairs right across the world, said the STB.
"The airlines will benefit when the interest for a Seychelles holiday is on everyone's lips. This will not happen by itself, it can only be a joint partnership approach for the benefit of the Seychelles tourism industry. This is also exactly why the Seychelles Hotel and Tourism Association has been requesting for more funds to market Seychelles. They are in the forefront of the industry that remains the pillar of the Seychelles economy and they recognise the need for Seychelles to remain visible and seen as the potential dream tourist destination."
The government has taken note of their appeal and this is why Bernadette Willemin, the tourism board's European director was in Seychelles for internal meetings with Mrs Grandcourt, and this is also why Ms Rose came to Seychelles at the same time as Mr Della Porta.
"Airlines give the much-needed connectivity to the mid-ocean islands of Seychelles. Some of these airlines now also partner with the country's Celebrate Seychelles Events Department in ways not seen before – Air Seychelles is the official partner for the Miss Seychelles Beauty Pageant, Emirates is the official partner for the annual Carnaval International de Victoria and Etihad is the official partner for Sub-Indian Ocean Seychelles festival of the sea."