Better chances of early autism diagnosis in children
19-April-2012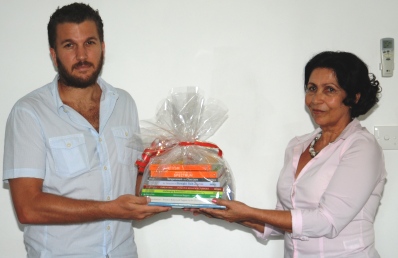 Local company Jouel, represented by its managing director Rod Thorrington, handed over the books to the CHF in a short ceremony on Tuesday at the Foundation's headquarters at Bel Eau.
Present at the ceremony were the chief executive of the CHF Noella Gonthier and school psychologists Patricia Gemmell and Catriona Shamlaye from the Ministry of Education.
Mrs Gonthier said the donation is part of the autism advocacy project MoU (memorandum of understanding) signed on World Autism Day, April 2, between the CHF and Jouel.
She explained that one of the biggest challenges faced by health professionals is early diagnosis of autism in children.
"We are hoping the books will pave the way for early detection and care and we at the CHF would like to thank our partners as well as parents for the continuous support," she said.
Mr Thorrington said that also as part of the programme, professional psychologists from the United States would be flown in for their expertise.
"We are also expecting diagnostic testing kits by September," he added.