Tennis: Vijay league-Club 2000 and Lift & Slice joint leaders
19-April-2012
Club 2000 (above) and Lift & Slice joint league leaders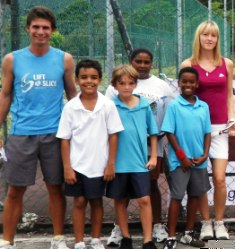 After three matches, they have both collected 11 points from 11 sets in their favour and four against them.
Teams taking part in the Vijay league are awarded one point for each set won and Lift & Slice have won all their first-round matches, while Club 2000 suffered only one defeat against third-placed Spitfire.
In their last first-round match on Friday, Lift & Slice defeated Rotary Club 4-1 to share the lead with Club 2000. Lift & Slice started the series with two men's singles victories with Damien Laporte winning 2-0 (6-4, 6-1) over Georges Panovski, while Shaun Andriamaro struggled past Vijay Patel for a very tight 2-0 win. The set scores were 7-6 and 7-5.
Laporte then teamed up with Theo Barois in the men's doubles to beat Charlie Ng and Philip Brioche 2-0(6-4, 1-5) for a 3-0 lead.
Peggy Chang-Tave then pulled one match back for Rotary Club with a 2-0 win over Tania Solovieva in the women's singles. The set scores were 6-2 and 6-2.
Frederick Canale and Solovieva then sealed victory for Lift & Slice with their win over the Panovski and Chang-Tave duo in the mixed doubles after the latter abandoned the match.
With 10 points, Spitfire finished the first round of the league in the third position after winning 10 sets and losing four out of three matches. Academy are fourth on nine points from nine sets won and 1 lost, ahead of fifth placed Eden who are on four points after winning four sets and losing seven. With three points from three sets won and 12 lost, Rotary Club tail the league.
The Vijay league table after the first round:

Team

Match played
Set for
Set against
Points
Club 2000

3

11

4

11

Lift & Slice

3

11

4

11

Spitfire

3

10

5

10

Academy

4

9

11

9

Eden

3

4

7

4

Rotary Club

3

3

12

3
*1 Point for each set won