Heritage conservation gets big boost
20-April-2012
The Cascade and Port Glaud communities officially launched their heritage trusts on Wednesday as part of activities to mark Heritage Week.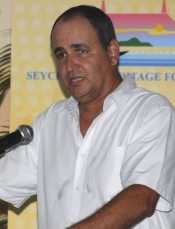 Mr Lafortune addressing the gathering at the launch ceremony at Cascade

Seychelles Nation attended the Cascade launch which took place in the district's administration office in the presence of the Seychelles Heritage Foundation chief executive Patrick Nanty and the district's member of the National Assembly Charles Decommarmond.
Also there were the community development special advisor Dan Frichot and the Cascade district administrator Fred Barrat, as well as other members of the community.
The Cascade heritage trust is chaired by Gerard Lafortune, with Johanna Didon as vice-chairperson, Lorna Moustache (treasurer), Catherina Bonnelame (secretary) and Cynthia Victor, Nelson Didon, Jemma Joubert, James Morel, Dorothy Bamboche and Michel Pierre as ordinary members.
Wednesday's ceremony at Cascade also saw the launch of the district's heritage school club by the school's head teacher Gina Balette.
During the ceremony the district's heritage trust got its first contribution from local private firm Civil Construction Company Ltd (CCCL), which is based in the district, while the new heritage school club got a set of t-shirts for its members.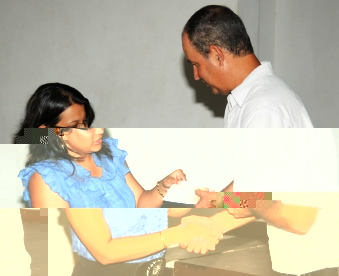 The districts' heritage trusts will operate as a non-profit and non-government community based organisation.
Their objectives are to conserve, preserve and promote the natural, historical and cultural heritage of all districts. They will help promote community-based heritage tourism and finance conservation programmes, projects and activities in the districts.
Mr Lafortune said Cascade has several heritage sites to preserve for future generations.
He said he hopes that the Cascade community can develop a heritage site like the one at L'Union Estate on La Digue where visitors can pay an entrance fee to see interesting features on this part of the island.