Youth health workers get fit
20-April-2012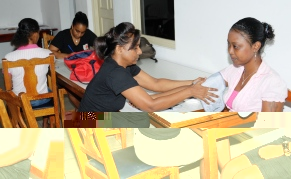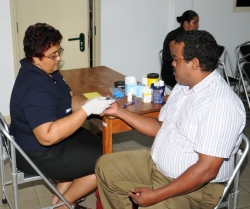 SNYC's assistant human resources officer Gyra Nibourette said the idea was initiated by the council's human resources department in collaboration with the Ministry of Health.
"We have a lot of sections in the SNYC which are dedicated to working with the youth, especially in health matters, and we believe it is important that we as health providers remain healthy if we want to give out such advice," she said.
The day started off with a short squatting exercise which set the tone for the day. Then, officials from the Ministry of Health gave a talk highlighting the importance of cardiovascular health and ways to prevent its decline.
Other activities during the rest of the day included screening tests such as those for blood pressure and diabetes, to name a few.
The activities took place on Tuesday at the Youth Centre, English River.
Our photos show some workers undergoing various screening tests.