Brisk business at Seychelles' stands at Routes Asia Forum
21-April-2012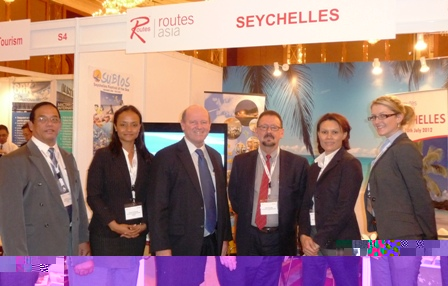 The delegation at the April 15-17 forum was led by Seychelles' Minister for Tourism & Culture, Alain St Ange and included the chief executive of STB Elsia Grandcourt, SCAA operations manager Wilfred Fock-Tave, senior air transport officer Florence Marengo, as well as STB's Amy Michel and Glynn Burridge.
During the course of the forum, Minister St Ange briefed delegates in a break-away session on the rationale behind Seychelles' imminent hosting of the Routes Africa forum to be held between July 8 and 10, 2012 in Seychelles.
The minister showcased Seychelles as the gateway from Asia to Africa via the western Indian Ocean region while detailing the advantages of doing business with SCAA and explaining the great diversity of the islands and their appeal as a tourism destination.
"As Seychelles is set to host the Routes Africa forum, it is important that we are present here to drum up business for the event, because such opportunities do not come about every day and there is a need to be proactive in selling our products and attracting business,'' said Mr St Ange.
On only the second day, the Seychelles' stand at the Chengdu Routes Asia forum witnessed brisk business with delegates keen to learn about Seychelles' airport infrastructure, services and amenities and also the islands' unique selling propositions (USPs).
Routes are the world's leading airline forum for aviation routes and an important catalyst for the development and diversification of the airline industry.