Support group heads get skills in project proposal writing
23-April-2012
The session – organised by the Association of the Districts' Disabled Support Groups of Seychelles – was held recently in the presence of its chairperson Celine Fanchette.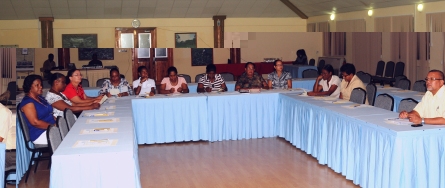 Also present at the opening was Dan Frichot, special adviser on community development, and the Cascade district administrator (DA) Freddy Barratt.
The workshop, held at the Seychelles Trading Company's conference room, was led by Gerard Albert who taught the delegates how to write proper project proposals that are likely to be successful.
Mrs Fanchette said it is vital for all chairpersons to acquire the skills as there are lots of grants available from overseas and local sponsors, which the association has to grab as this will greatly benefit our clubs for people with disabilities.
She said the workshop will also raise members' overall knowledge, adding this is the first project for the year but there will be more to ensure club members get more benefits.
Mr Barratt reminded the chairpersons that they have a noble task as well as great determination to achieve their goals.
He congratulated the association for the efforts and good work.
"On behalf of all my DA colleagues, we ask you to give all the necessary support for the disabled groups in the districts," he said.