Rio+ 20 young music contest-Vote for 'Respect for Life'
23-April-2012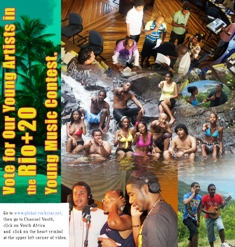 As part of the Rio+20 Earth Summit the International Association for the Advancement of Innovative Approaches to Global Challenges (IAAI), with support from youth organisations and enthusiastic individuals/volunteers from all around the world, a song contest was launched for children and young people.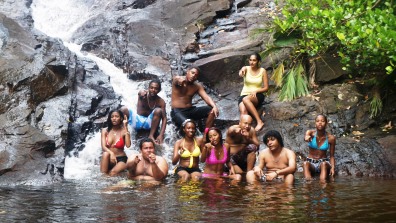 Its aim is to encourage youth to express their hopes, concerns and thoughts on future of our earth by using music; and to collect musical messages from global youth exploring global solutions for sustainable development. Organisers believe that music is a powerful expression of intercultural dialogue to inspire and energise global community to work effectively towards global sustainable development with United Nations leadership.
In most countries, national competitions have been organised, where the best three songs were submitted in the contest. In Seychelles, a different approach has been used. As part of the Ministry of Environment and Energy environmental awareness programme for this year, a workshop for young Seychellois artists, especially winners of 'Sesel I Anan Talan', was planned to take place during the middle of the year. But when the ministry was informed of the competition, and discussions were done with the Jj Spirit Foundation, the organiser of 'Sesel I Annan Talan', a decision was made to organise the workshop earlier and to come up with a song for the contest. Other young popular artists such as Ion Kid and Martin Lebon were also invited to motivate our young and new artists. Popular and talented artists, especially those who in the past have composed environmental songs, such as Patrick Victor, Joe Samy and Raymond Clarisse, were invited to technically help and guide these young artists.
At the beginning of the workshop the delegates learned about a number of global environmental issues, especially those impacting on our islands such as sustainable development and lifestyles as well as climate change. Presenters were specialists from the Ministry of Environment and Energy and non-governmental organisation – Sustainable for Seychelles. After presentations, these artists were put into three groups, two of which worked on lyrics and one on the music. Later, all the lyrics were displayed and together as bigger group, striking environment sentences or phrases were highlighted which made the lyrics of the final song. Studio recording and filming were done mainly during weekends as most of these artists are at school during the week.
What message is the song trying to convey?
These artists focused mainly on what they learned in the presentations, especially on issues like climate change and its impact on our small islands. The title 'Respect Life' was the request of the way forward from the last facilitator. After all the discussions and analysing the problem facing the world today, the group felt that it is simply 'Respect for Life' that we need for a better world, RESPECT for both human life and for other life forms on earth.
The chorus starts with the calling of everyone to the need for environment protection; Mother Earth needs us all, they say. It stresses on the importance of giving LOVE in everything we do, for life can be better with more love and urge everyone to 'make it right', which means change our present way of doing things.
The 'Earth' has two meanings here, first it refers to the Rio Summit, which was also called the 'Earth Summit" which is now calling the leaders back to reflect on what they have done to improve our planet, and calling on the whole world attention to the decisions which will be made there. Secondly, it refers to the planet Earth, which is urging us for more respect and caring.
"But what is happening today?" They say through our economical development "life is easier this way", however, we are paying a higher price ecologically. Our young people therefore ask us to "open our eyes and see all the havoc we are causing": the "boiling" which means global warming; the "melting" of ice which results in the "drowning" in tears meaning flooding and rise in sea level. This focuses on their experiences as people living on small islands.
Our young people are requesting us to look back at our ecological and carbon 'footprint', and warns us that if we do not change, expect the worst to come. "It doesn't matter whose Right or Wrong" meaning stop pointing figure at each other as we are not moving forward, they say it's all about what we do "today" each one of us, it is simply, respect for life.
They feel that we are already seeing the red light warning, enough proof which shows that we are turning the world into a catastrophic state. They feel that it is high time to stop brainstorming what to do (especially at those popular global summit), but to start taking concrete action, delegates have to commit themselves to take actions. "More money" which means continuous economic growth, but at the same time "more resources", through sustainable use of it and more protection of what's left of our natural world. They want to remind us of our role in the ecological web of life, what we do in one corner of the world, will surely impact the others living at the other corner of the globe so realise we are "not living in isolation". So everyone, each individual, should play its role, and start by respecting life in everything we do
The song is already doing well locally and some schools have been requesting the lyrics as a means to educate children on the environment and sustainable development, which was one aim of the local organisers. Both the music and the lyrics are appealing, some have even put it as ring tones on mobile phones.
How to vote for the song?
All songs for the competitions can be voted on line until May 14. The local organisers realise that it will be a tough competition as Seychelles is the smallest nation in the contest and all other countries have their own campaigns to vote for songs from their own country. It is for this reason that Seychellois have been urged to support our young artists who we must admit have done a great job. The local media, especially SBC, must be commended for their local support, advising people where and how to vote. To view and vote for the video please go on the website www.global-rockstar.net. Once on the website go on the right hand side of the page then go to Youth Channel and go to Youth Africa category.

There you can search for Seychelles or Respect Life. To vote click on the little text box below the video, then simply click the red heart. You can vote every 24 hours up until May 14. Let the music talk, let the rhythm play and let the world know what our young Seychellois have to say in regards to sustainable development, climate change and other global problems affecting them.
The Ministry of Environment and Energy and the Jj Spirit Foundation would like to take this opportunity to thank everyone, especially the facilitators of the workshop, the other popular artists who assisted throughout the production of the song and for the voters who have given their support. The team work resulted in a song that all Seychellois can be proud of.
Contributed by Ministry of Environment and Energy

Respect for life

Chorus
I need you, you need me
The world needs you for love
For life (bis)
Give love in everything we do
This life we live depends on you
It can be better
You know it's true
So let's start to make it right
The earth and me is calling you
Calling you
Calling we (bis)
Verse 1
Do you know what's happening today?
(they say)
Life is easier this way
Is this the price we want to pay?
It's time to open our eyes and see
All the havoc we are causing
Yeah!!
All the boiling, all the melting
The earth is drowning in tears
Repeat Chorus
Verse 2
Take a minute
Look back at your footprints
Can you see the worst is yet to come?
Doesn't matter who's right or wrong
It's all about what you do today
It's our life our destiny
It's simply, simply respect for life
Chat
It's a red light warning
We talking about global warming
It's time to stop with the brain storming
People let's start acting
Stop talking we need action
More money, more resource, more protection
Respect life is the right direction
Remember you're not living in isolation
Repeat Chorus