Resort supports eco-school holiday activities
24-April-2012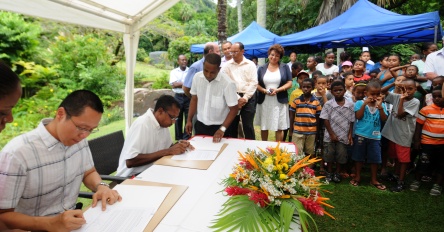 The activities are an initiative of the National Botanical Gardens Foundation (NBGF) aimed at encouraging the use of gardens as an outdoor classroom for learning.
To seal this partnership, a memorandum of understanding was signed yesterday at the gardens by the resort's general manager Ken Choo and the foundation's chief executive Raymond Brioche.
Present were the Environment and Energy Minister Rolph Payet and that for Education Macsuzy Mondon, as well as the Tourism and Culture Minister Alain St Ange.
Children who are taking part in the eco-school holiday activities were also there.
Mr Brioche said this initiative was launched in April last year with the hope that through these fun and educational activities students from kindergarten up to post-secondary level can explore and discover the different plants found in the gardens.
He added that it is an opportunity for them to understand the importance of plant protection and conservation.
Mr Choo said the hotel supports the foundation's excellent initiative for developing a school eco-holiday programme as learning about our ecosystem is fundamental to the appreciation what Seychelles has to offer to the world.
He said it also forms part of "our support for the Seychelles Tourism Board's sustainable tourism labeled project".
"The tourism trade is taking very aggressive steps in our efforts to promote Seychelles to the Chinese."
He noted that not all Chinese go for purely sand and sea; there are many who enjoy visits to the gardens.
"The Botanical Gardens is the green lung of Victoria and has life energy."
"This is why exercises such as Tai Chi are practiced in many gardens around the world by the Chinese," he said.
He added that he sees the Botanical Gardens as one of the potential venues which the tourism industry could market to the Chinese.
Mr Choo said it is also necessary to develop a Chinese language brochure and leaflets for the gardens which can be made available at the hotel – thus cross-selling our products would benefit both parties.
Minister Payet said this kind of collaboration should be encouraged in the country.
"Bringing kids to the gardens is not only a fun exercise but a chance for us to give those kids an opportunity to learn more about the environment," he said.