Seychelles, Sri Lanka pledge closer alliance
24-April-2012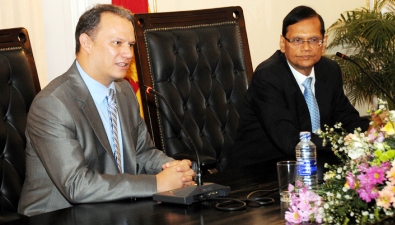 This follows a two-day visit by Foreign Affairs Minister Jean-Paul Adam to Sri Lanka where he met his counterpart, Professor G.L Peiris, and other senior government ministers.

"As two Indian Ocean states, Seychelles and Sri Lanka have a lot of experiences and opportunities to share with each other. We both believe very strongly in the need to harness the power of the blue economy for our mutually beneficial development," a communique from the Ministry of Foreign Affairs quoted Mr Adam as saying.
In their bilateral meeting the two ministers highlighted the shared vision of President Mahinda Rajapaksa and President James Michel to create more synergies among the countries of the Indian Ocean to better connect our nations through trade and exchanges.
During his visit, Mr Adam highlighted potential cooperation between the two countries in the fisheries sector, in the fight against piracy, in health and education, as well as renewable energy.
Mr Adam was accompanied on his visit by Radley Weber, representing the Seychelles Boat Owners Association.
In relation to fisheries, for a number of years, Seychellois fishing companies have been building long-liners in Sri Lanka. Indeed, during the visit, the Seychelles delegation discussed the possibility of further strengthening this link by establishing a mechanism to widen the options for Seychellois entrepreneurs to be able to construct their vessels in Sri Lanka.
Sri Lanka has further enhanced its role in ship building by producing a wide variety of vessels appropriate for use in cargo transportation, passenger ferrying, luxury leisure craft as well as a vast array of fishing vessels.
The two countries are also close to concluding an updated fisheries agreement that should present new opportunities to entrepreneurs from both countries while also combating illegal fishing.
The two ministers also agreed to work together to increase cooperation on security matters including the fight against piracy. Both countries reiterated their commitment to fight the scourge, recognising that the development of the blue economy concept depends on ensuring safety and security of the sea-lanes.
During the visit, Mr Adam also pursued discussions to establish cooperation in health and education, where the possibility of recruiting Sri Lankan professionals to beef up Seychelles' services in these two sectors was explored.
The minister also had the opportunity to meet a number of members of the Sri Lankan private sector, including operators in the fields of tourism, ship building, trade in commodities, as well as small scale renewable energy and water projects known as 'micro-hydro'.
"It is clear that maritime states and islands in particular are very vulnerable to fluctuating oil prices and it is very important that we learn from each other's experience to be able to produce energy innovatively," said Mr Adam.
During his visit, Mr Adam also had wide ranging discussions with the Minister for Economic Development, Basil Rajapaksa; the Minister for Fisheries and Aquatic Resources Development, Rajitha Senarathne; and the Minister for Industry and Commerce, Rishad Bathiudeen and the Secretary for Defence, Gotabaya Rajapaksa.
Mr Adam and Mr Weber also had the opportunity to visit Colombo Dockyards and Neilmarine shipyards to see the potential of ship building in Sri Lanka first hand.