Mancham intent on US embassy re-opening in Seychelles
24-April-2012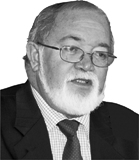 Mr Mancham left Seychelles yesterday evening to take part in a high profile think tank hosted by the Hoover's Institute of War, Revolution and Peace of Stanford University in Palo Alto, California, USA, from May 2- 4.
Mr Mancham will speak on "The Indian Ocean, China's penetration in the zone, Piracy and the U.S. military presence in Diego Garcia."
In a statement issued yesterday morning, Mr Mancham said that his main focus on this trip to the USA will be a call to the US Government to re-open its embassy in Seychelles.
In the statement, Mr Mancham noted that during the Cold War period when Seychelles became an independent sovereign Nation in 1976 under his Presidency, the USA established full diplomatic relations and over the years several respected American diplomats served as ambassador from their Port Victoria embassy.
"Sadly after the Cold War, the US closed its embassy and cultural centre in Seychelles and got its ambassador in Mauritius to look after its Seychelles diplomacy. Notwithstanding this move, the US Navy has paid and continue to pay regular calls to Seychelles for 'rest and recreation' and over recent months, the US Air Force has stationed drones at Seychelles International Airport …," Mr Mancham noted.
At the moment, China, India, France, Russia, the United Kingdom and even Cuba have resident Ambassadors in Seychelles. For Mr Mancham, the current situation constitutes "an anomaly which must be rectified by the world's only superpower".
Mr Mancham will be having talks in Washington D.C. and has requested for a meeting with the State Department to raise this issue.
Noting he has been preoccupied with the issue of an American ambassadorial presence in Seychelles over the last 10 years, Mr Mancham said he wrote about it in his book "War on America – seen from the Indian Ocean", published by Paragon House, USA, in 2002 and in his autobiography "Seychelles Global Citizen" also published by Paragon House in 2009.