Athletics-Grand rendez-vous set for next year
24-April-2012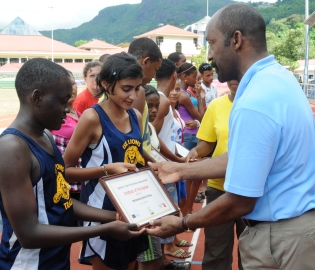 It was the Athletics director at the International School of Kenya (ISK) Derrick Quinet who had the honour of doing the closing remarks to officially end the event, in the presence of the Minister responsible for Sports Vincent Meriton.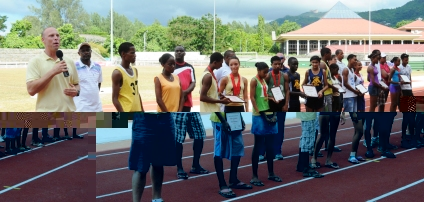 Mr Quinet said the event should be held annually and the ISK will ensure its participation each time. He congratulated all the athletes who took part in the competition whom he described as full of energy, enthusiasm and sportsmanship.
He thanked the sponsors and all those involved in organising the competition, as well as the Seychellois people, for the warm welcome received.
Mr Quinet ended with words of luck for the local athletes who will be taking part in the National Schools Championships in June.
All the teams who took part then received certificates of participation from Mr Meriton.
Jointly organised by the Seychelles Athletics Federation (SAF), local telecommunications company Airtel, the Ministry of Education and the National Sports Council (NSC), the event gathered over 400 athletes from seven best performing secondary schools during the 2011 National Schools Athletics Championship – Praslin, Anse Royale, English River, Plaisance, La Digue, Pointe Larue and Beau Vallon – alongside 27 athletes from the International School of Kenya.
The technical aspects of the competition were taken care of by the local athletics body, while the athletes competed in the under-14, under-16, under-18 and under-20 groups.
The 'Seychelles Track & Field Schools Invitational Meet' was initiated following an agreement between the Ministry of Education and the ministry responsible for sports for a better coordinated and monitored school sports system which will ensure the development of the children and young people of the country through the "Physical Education and School Sports" (PESS) Strategy.
Complete results of the event:
100m Girls U14
1. Stephie Monnaie Praslin 13.83
2. Amisha Seraphine English River 14.34
3. Kendra Joubert English River 14.38
100m Boys U14
1. Thieran Leon Beau Vallon 12.38
2. Rico Raoudy La Digue 12.44
3. Christian Melanie English River 12.64
100m Girls Varsity
1. Estelle Lepathy Anse Royale 13.80
2. Eva Ledroit ISK 14.43
3. Erica Gamatis Anse Royale 16.59
100m Boys Varsity
1. Anthony Francois Anse Royale 11.76
2. Ken William Anse Royale 11.77
3. Ted Nijimbere ISK 12.90
100m Girls Junior Varsity
1. Diane Nioze Plaisance 13.27
2. Surera Charles Plaisance 13.63
3. Annira Cedras Praslin 14.21
100m Boys Junior Varsity
1. Adrian Constance La Digue 11.42
2. Golbert Mellon La Digue 11.55
3. Marti Mondon English River 11.79
110m Hurdles Boys U14
1. Krist Larue Anse Royale 17.79
2. Gino Beauchamp Anse Royale 19.50
3. Jackson Walker ISK 19.91
100m Hurdles Girls Junior Varsity
1. Samia Almaze Plaisance 19.08
2. Peggy Rachel Anse Royale 19.66
3. Adele Mcmurdo ISK 20.98
110m Hurdles Boys Varsity
1. Jean-Francois Lepathy Anse Royale 19.79
2. Toby Raehak ISK 20.18
1500m Girls U14
1. Lissa Agnes Beau Vallon 5:40.65
2. Francessca Rose La Digue 5:40.77
3. Marischa Assary Pointe Larue 5:43.47
1500m Boys U14
1. Slate Rostale ISK 4:56.02
2. Colin Francourt Pointe Larue 4:56.03
3. Achille Ernesta La Digue 5:02.38
1500m Girls Junior Varsity
1. Hillary Robert Beau Vallon 5:50.02
2. Vanessa Cherry Plaisance 5:51.28
3. Ronia Brioche Praslin 6:03.55
1500m Boys Junior Varsity
1. Steward Louise Plaisance 4:30.99
2. Travis Boniface Anse Royale 4:33.45
3. Ryan Praslin 4:39.73

1500m Girls Varsity
1. Sheryl Lepathy Anse Royale 6:19.77
2. Estelle Lepathy Anse Royale 6:20.83
3. Marylu Mend ISK 6:23.66
1500m Boys Varsity
1. Yannick Barra Anse Royale 4:56.01
2. Mario Estico English River 5:11.64
3. Anil Bacco English River 5:31.15
300m Hurdles Girsl U14
1. Laureen Mousbe Anse Royale 56.06
2. Cynthia Moustache Pointe Laure 56.16
3. Chanty Jeanvole Plaisance 59.18
300m Hurdles Boys U14/Junior Varsity
1. John Marianne Pointe Larue 48.34 (Boys U14)
1. Aaron Tirant Beau Vallon 42.87
2. Mohamed Harriba Anse Royale 46.20
3. Richard Servina Anse Royale 47.75
300m Hurdles Girls Junior Varsity
1. Ezra Almaze Plaisance 52.50
2. Shamira Estrale Anse Royale 57.85
3. Achira Bibi Plaisance 1:01.27
400m Boys varsity
1. Jean-Francois Lepathy Anse Royale 56.66
2. Christopher Bristol Anse Royale 59.25
3. William O'Sulivan ISK 1:00.60
4X100m Girls U14
1. Anse Royale 55.96
2. La Digue 55.66
3. English River 57.04
4X100m Boys U14
1. Anse Royale 49.69
2. English River 51.15
3. La Digue 51.16
4X100m Junior Girls Varsity
1. Plaisance 52.66
2. Anse Royale 56.19
3. English River 56.89
4X100m Junior Boys Varsity
1. English River 45.78
2. La Digue 45.96
3. Plaisance 47.07
4X100m Boys Varsity
1. Anse Royale 47.34
2. English River 50.02
3. ISK 54.21
Shot Put Girls U14
1. Juanita Poris English River 8.31m
2. Ariana Sooyana Praslin 6.80m
3. Virginie Athanase Anse Royale 6.51m
Shot Put Boys U14
1. Jean-Michel Camille La Digue 12.69m
2. Jean-Luc Woodcock La Digue 12.61m
3. Dominique Dina English River 10.17m
Shot Put Girls Junior Varsity
1. Elna Rose Plaisance 8.45m
2. Aysha William Pointe Larue 8.39m
3. Maiza Radegonde La Digue 8.13m
Shot Put Boys Junior Varsity
1. Natenaina Finesse Praslin 11.29m
2. Jean-Yves Nourrice Pointe Larue 10.48m
3. Daren Fideria Plaisance 10.23m
Shot Put Boys Varsity
1. Christopher Bristol Anse Royale 9.54m
2. Richard Leon Anse Royale 9.42m
3. Toby Rehak ISK 8.13m
Discus Boys U14
1. Jean-Yves Solin Plaisance 22.99m
2. Alez Vink ISK 16.99m
3. Arnold Kilindo Beau Vallon 16.86m
Discus Girls Junior Varsity
1. Elma Rose Plaisance 20.06m
2. Aisha Cushion Plaisance 19.25m
3. Debra Servina Anse Royale 18.67m
Discus Boys Junior Varsity
1. Jean-Yves Roseline Pointe Larue 25.95m
2. Cyrous Farabeau English River 23.75m
3. Shawn Leggaie Plaisance 23.43m

Long Jump Girls U14
1. Natasha Mawjee ISK 4.15m
2. Alisa William Plaisance 4.08m
3. Laurene Mousbe Anse Royale 4.04m
Long Jump Boys U14
1. Menjel Kilindo English River 5.70m
2. Rico Raoudy La Digue 5.43m
3. Dean Nibourette La Digue 5.41m
Long Jump Girls Varsity
1. Eva Ledroit ISK 3.72m
2. Nasha Marie Anse Royale 3.47m
3. Emily Albest Anse Royale 3.42m

Long Jump Boys Varsity
1. Stephen Souris Anse Royale 5.92m
2. William O'Sullivan ISK 4.92m
Long Jump Junior Girls Varsity
1. Samia Almaze Plaisance 4.59m
2. Surera Charles Plaisance 4.48m
3. Louisa Ladouce La Digue 4.40m
Long Jump Junior Boys Varsity
1. Owen Crsipin 6.08m
2. Yannick Hoareau English River 5.86m
3. Ian Volcere Plaisance 5.77m
Triple Jump Boys Varsity
1. Menjel Kilindo English River 12.01m
2. Stephen Souris Anse Royale 10.64m
High Jump Girls U14
1. Nifelie Etienne La Digue 1.37m
2. Enigona Pharabeau Pointe Larue 1.31m
3. Francess Rose La Digue 1.22m
High Jump Boys U14
1. Noris Bibi La Digue 1.71m
2. Noris Rose Praslin 1.71m
3. Warren Bibi La Digue 1.56m
High Jump Boys Junior Varsity
1. Dillen Esther Praslin 1.75m
2. Yannick Hoareau English River 1.67m
3. Edson Ladouceur Praslin 1.61m