State visit of Indian President to Seychelles
25-April-2012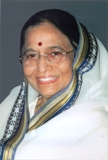 President Patil's April 29 – May 1 visit is at the invitation of President James Michel.
President Patil's programme will include a call on State House and a special address to an extraordinary session of the National Assembly.
The Ministry of Foreign Affairs is inviting any photographers and freelance journalists who wish to cover the event to collect an accreditation form from the Ministry at Maison Quéau de Quinssy, Mont Fleuri and return it by 1200hrs on Friday April 27.