Philippino priest to lead meetings on love and human sexuality
25-April-2012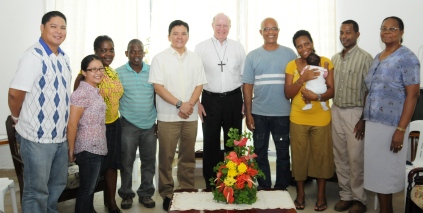 His visit is at the invitation of the Diocese of Port Victoria and two church organisations --Couples for Christ and the Association for the Promotion of Solid, Humane Families (APSHF).
Father Joel's first gathering will be held at the International Conference Centre (ICCS) tomorrow, to which Rosy Denis of Couples for Christ said 314 youths from all schools, as well as their teachers, have been invited.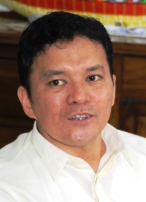 Father Joel, who is accompanied by a Philippino "Couple for Christ" -- Joseph and Alisson Gozun -- met Bishop Denis Wiehe yesterday afternoon in the presence of several other couples of the movement.
He said it is hoped that this week's gatherings will prompt more youths to reflect on the sanctity of their bodies and learn to love and respect one another, especially those of the opposite sex.
"Christianity extols the body as sacred. It is based on God who took on a body," he said.
On marriage, he said the commitment must be solid from both partners to ensure the family stands the test of time.
Father Joel told Seychelles Nation it is envisaged that the gathering at the ICCS will begin with an overview of his programme, aimed at re-discovering love and human sexuality through the teachings of Blessed John Paul 11.
According to Father Joel, who has led similar gatherings in Vietnam and the US, besides his native Philippines, the Pope had already been preaching the "Theology of the Body" while still a Cardinal in Poland. He did so mainly during his frequent mountain hiking trips with the youth.
Later as Pope, he talked about it gradually and such teachings have been compiled into a book.
Father Joel said it is hoped that some of the participants in the manifestations will form a pool to promote such Christian ideals.
"This is our goal," he said.
A second session on Friday at the Cathedral of the Immaculate Conception will be mainly for government officials and lay leaders, catechists and the clergy.
Saturday, Father Joel will move to St John Bosco at Pointe Larue, where all adults, couples and parents are invited.
The last session at Plaisance on Sunday will be for migrant workers residing in Seychelles.
All sessions start at 9am and will go on until 4-5.30pm.
Father Joel is the Dean of studies of the Theology Department at San Carlos Seminary, Manila and teaches Fundamental Moral Theology, Sexuality and Integrity.
He also heads the Ministry for Family Life at the Archdiocese of Manila.