Efficiency of emergency services tested
26-April-2012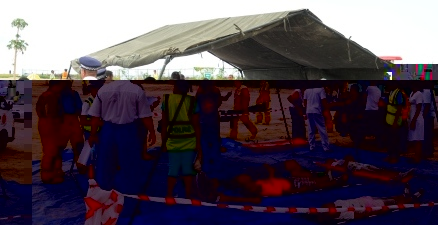 A Boeing 767-300 from Mauritius was on its way to Dubai when it requested emergency landing and "crashed" upon landing at the southern end of the runway with 110 passengers on board.

The "accident" happened at 9.23am.
Airport Fire Services, with the help of fire fighters in Victoria, rushed to the scene to put out a fire resulting from the crash.
Rescue operations began to help the passengers and to retrieve the black box. Casualties were transported to the Seychelles Hospital where they received treatment.
Several observers were present at the media centre set up at the airport and at the crime scene to assess the exercise.
Members of the media met representatives from various agencies involved to give an overview of the situation.
Police commissioner Ernest Quatre, who was in command of the scene of the accident, said an investigation will be carried out by the Seychelles Civil Aviation Authority (SCAA) and the police department.
A debriefing session will be held today with all partners involved in the exercise to assess their weaknesses and strengths.
SCAA chief executive Gilbert Faure said the drill is an international requirement as SCAA is a member of the International Civil Aviation Organisation since May 1977.