New equipment to step up road works
26-April-2012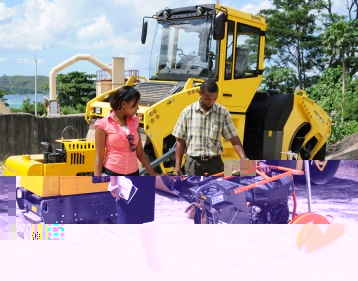 The type of work done is also expected to be improved with the help of the new road paver, heavy duty roller, asphalt cutter and small, regular rollers for small projects like potholing and trenches.
The SLTA's manager at the Petit Paris Unit, Cliff Telemaque, said the agency has already started using some of the equipment and there is a team of people on standby to carry out maintenance work as and when necessary.
"The work we do progresses a lot faster now, the quality of work has improved and even our staff are more enthusiastic," he said.
"We are now aiming to resurface parts of La Louise road, up to Copolia, but will leave the road above that untouched, due to works scheduled to be carried out soon by the Public Utilities Corporation," he said.
He added that they will also work on the road at Bel Air and Les Canelles and will focus more on resurfacing the roads rather than just potholing them.
"On secondary roads, we will focus more on doing overlays, where we don't simply do potholing, but work on patching a larger section of that road, and use more human labour instead of the machines," he said.
With two new small rollers and two asphalt cutters, one of each will be sent to Praslin.
The agency's public relations officer Stephanny Rosette said road works on Praslin will also be stepped up.
"We know about the public's frustrations – especially over the quality of roads in certain places – but with our new set of equipment, the agency is even more committed to giving a better service," she said.
The equipment, which has been imported from Britain, has been financed by the government of Seychelles at a cost of £265,000.
The SLTA said it also expects to receive another road paver in a month's time.