Boxing: Olympic Qualification, Casablanca, Morocco -Four pugilists to attempt London Olympic tickets
26-April-2012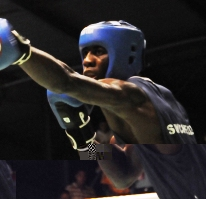 The tournament, set for April 27 to May 6, will be the final on the continent, in the race to the London Olympics in August.
The four local pugilists making the trip are Andrique Allisop (60kg), Kitson Julie (64kg), Jovet Jean (75kg) and Ronny Legras (+91kg). They are being accompanied by coaches Jerry Legras and Igor Kolesnikov.
Seychelles Amateur Boxing Federation (SABF) chairman Hervé Anthony will also make the trip to attend the SABC congress which will also be held during the tournament.
For the London Olympics, Africa has a quota of 52 boxers in the men's category. However, Algerian boxers have already qualified for some of the slots, leaving the Morocco qualifiers with 48 places to be occupied.
The delegation is expected back Wednesday May 9.
Meanwhile, the SABF will soon start a training programme for all referees, judges and timekeepers as part of its effort to step up the level of officiating in the sport. All those interested in joining the training programme are asked to attend a meeting on Monday, May 14, starting at 4.30pm at the NSC multipurpose hall.