Juvenile project to target at-risk youths
27-April-2012
Named the Juvenile Project, the programme is in line with the social renaissance drive and led by a steering committee.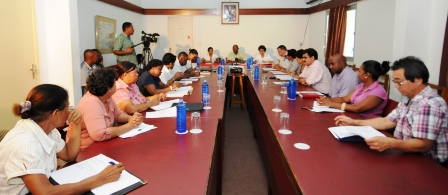 The first meeting of the committee was held yesterday at the headquarters of the Ministry of Social Affairs, Community Development and Sports and was chaired by Minister Vincent Meriton, in charge of this ministry.
Also present were the Minister for Education Macsuzy Mondon and the principal secretary for social development Linda William-Melanie.
The steering committee has brought together representatives from a number of pertinent ministries and other policy and decision makers from various sectors of society to contribute to the project. They include the prison division, Mont Royale rehabilitation centre, Attorney General's office, National Youth Council and the Campaign for Awareness, Resilience and Education against substance abuse (Care).
Addressing the first meeting, Minister Meriton said this was the first step to concretise the initiatives taken to look at issues affecting the children and youth of Seychelles.

"We all want the best for our children, but we know that our children, youth and families are facing a complex situation and we know this through the work that we do in the schools, community, social services , Ministry of Health, National Youth Council, churches and other services that our other partners offer on a daily basis," he said.
The minister explained that the problems that they have identified are those related to children with learning difficulties, behavioural problems in and out of school.
He said that these problems, if not addressed, can turn into unruly social behaviour in the school and anti- social behaviour in the community, ultimately leading them to be in conflict with the law and the norms of society.
"We therefore need to look at different options and mechanisms to address the needs of our children; we need to bring them back on track and ensure they become responsible and productive citizens," he said.
In a presentation, PS William-Melanie explained that the Juvenile Project has a four-fold concept -- early identification, day programme, residential programme and detention and rehabilitation.
"Our ultimate goal is to reduce anti-social behaviour and school drop-outs, ensure a rehabilitative focus to the detention of youths and the return of young offenders to the community as cured and viable members of society," she said.
She also stressed that for the programme to be successful, all stakeholders should be committed to its implementation.