Darts-Vidot re-elected as SDA chairman
27-April-2012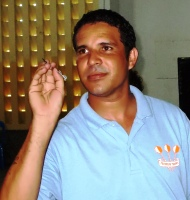 He will work alongside new secretary Darrel Siméon, who replaces Reuben Port-Louis and new treasurer Jack Micock, who has taken over from Eric Frost. The associations' ordinary members are Antonio Gomme and Gerard Pierre.
Speaking to Sports Nation, Mr Vidot said his top priority is international exposure both at world and regional level for the local players. He said along with representatives from other Indian Ocean countries, they are initiating a regional darts committee to try and integrate the sport in the next Indian Ocean Island Games.
As for the international outings, Mr Vidot said the association is planning a trip to Malaysia.
He added that later this year, the SDA will be hosting its competitions in a newly acquired specialised venue at Anse Royale.