Art graduates show their talents
28-April-2012
Guests viewing some of the work on display after the official opening ceremony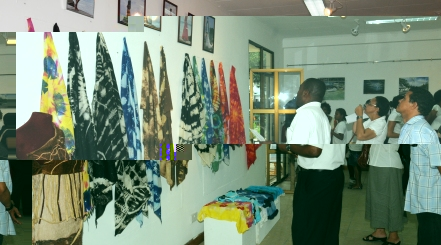 Present to view the over 30 pieces of art work were Education Minister Macsuzy Mondon and principal secretary Merida Delcy as well as the Culture principal secretary Benjamine Rose.
Also there were the head of the School of Visual Arts Christine Chetty, high government officials and the arts students.
About 20 graduates took part in the exhibition in which they showcased their talents and what they have mastered during their full-time courses in Fine Art, Fashion, Textile and Graphics.
Several paintings were on display where the young artists have used mediums such as acrylic, marker, colour crayons and water colours.
Their work had different titles such as Lekay Pwason, Bonnen Kare, Abandoned House, Bamboo and Laroul Kraze.
There were also some tie and dye textiles on display.
The exhibition will remain open until May 5 and the public can come buy the products whose prices range from R500 to R3000.
Miss Rose had some words of encouragement for the new artists and asked the seniors to serve as an example, a guide, a mentor as well as a source of inspiration for them.
She said these young talents will eventually become artists and designers in this new era of the creative industries that we are embarking on.