Miss Seychelles … Another World pageant-Contestants raring to go
28-April-2012
Photo shows the girls proudly posing for our photographer Patrick Joubert before undertaking one of their choreography training sessions yesterday at the National Theatre (photo below)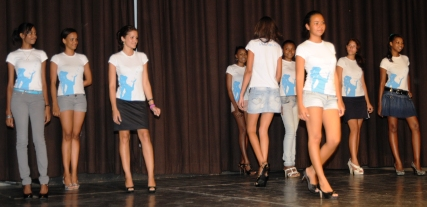 Initially there were 12 contestants but one of them – Corrine Roucou -- dropped out after being offered a chance to further her career overseas.
The 11 remaining contestants are Stephanie Ernesta, Isabel Lavigne, Diana Marie, Shanice Hoareau, Mathilda Chetty, Sherlyn Furneau, Vanessa Adam, Petra Morel, Nathasha Robinson, Vicky Cupidon, and Christina Fondamiere.
For the past four months following their auditions for the finals on January 27, 2012, the STB has upheld the policy of giving minimum exposure of the girls to the media. All publications of the contestants were the sole responsibility of the STB. This decision was taken in a bid to allow the contestants of the pageant to remain focused in their four-month training sessions which started on February 3 and will be completed on May 18, 2012, one week prior to the final rehearsals.
The STB says that for the past three months the contestants have built a strong team spirit and have undergone intensive weekly training programmes to brush up on their public speaking techniques, general knowledge on the Seychelles culture and economy, phone & table etiquette, conversation in French and performance skills on camera.
The contestants have also had photo shoot sessions, choreography rehearsals as well as several social outings such as a hike and trip to Praslin and Aride Island.
Furthermore as ambassadors of the STB, the girls took part in the 2nd edition of the Carnaval International de Victoria and the 'Seychelles Eco-Friendly Marathon'. All these tailored training sessions have been planned to prepare the contestants not solely for the Miss Seychelles...
Another World pageant finals, but are also beneficial for the crowned contestant who will proceed to the Miss World pageant to be held in China in August 2012.