Warm reception for Indian President
30-April-2012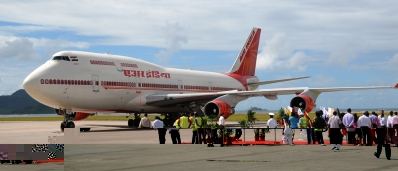 She was warmly received by President James Michel and smiling delegations made up of our country's top leaders, flag-waving Indian nationals based here and school children.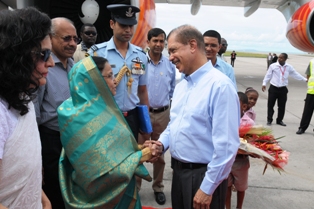 In the welcoming party were Vice-President Danny Faure, speaker of the National Assembly Dr Patrick Herminie, chief justice Fredrick Egonda-Ntende, president of the Court of Appeal Francis MacGregor, ministers, chief of Defence Forces Brigadier Leopold Payet, members of the diplomatic corps resident in Seychelles including Indian high commissioner Thanglura Darlong, Seychelles high commissioner to India William Waven, leader of government business in the National Assembly Marie-Antoinette Rose, leader of the opposition in the National Assembly David Pierre and members of the National Assembly as well as police commissioner Ernest Quatre.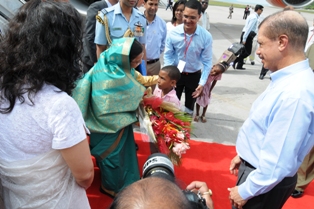 Nine-year-old Ryan Marie and Katty Rose presented President Patil with a bouquet of flowers.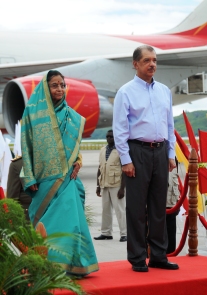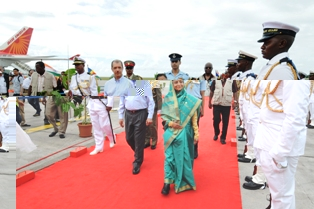 President Patil warmly acknowledged the reception and at one time asked the cordon surrounding her red carpet to be removed so she could shake hands with members of the public, who later told Nation her gesture was "very touching".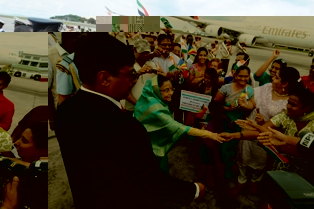 Many Indian nationals said they were happy for it was the first time they ever saw Mrs Patil from close quarters, most saying they had only seen her in pictures and on television.
The President's arrival was covered live by the Seychelles Broadcasting Corporation.
In a statement from State House, President Michel said:
"Our two countries have stood together and supported each other for the past 36 years. India has proved a sincere and generous friend of Seychelles and has helped us tremendously in our socio-economic development. The visit of President Patil is a testimony to the dynamism of our excellent relations, and an opportunity to enter a new phase of bilateral cooperation in the areas of commerce and investment promotion, youth and sport, police and defence affairs, as well as environmental conservation and climate change mitigation."
Foreign Affairs Minister Jean-Paul Adam said:
"This is a wonderful occasion for Seychelles-India relations.
"It is clear evidence of the true partnership of our two nations, especially as this visit is already the third undertaken by such a high level representative which demonstrates the great value our countries place on our friendship."
Mrs Patil was due to attend a business forum for Seychellois and Indian delegates at the Constance Ephelia resort yesterday evening.
This morning she is due to hold talks with President Michel and Vice-President Faure at State House which are expected to cover bilateral relations, regional and international issues and culminate in the signing of a number of agreements.
She is later expected to address a special session of the National Assembly. Prior to that, she will have a tête-à-tête with the speaker, Dr Patrick Herminie, and also hold talks with the leader of the opposition in the assembly David Pierre.