President Michel hosts reception for Indian delegation
02-May-2012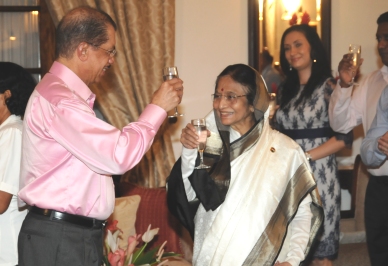 Mr Michel said it was in celebration of "the natural affinity between Seychelles and India. A natural partnership and a natural alignment of one of the world's largest economies, and one of the smallest.
He told guests that President Patil greatly honoured the Seychellois people by her visit which was "another reminder of the friendly and productive engagement between our two peoples and countries". "Your Excellency Madam President, I also take this opportunity to express the warm and sincere appreciation of the Seychellois people for the additional package of economic support that you announced in our discussions this morning. This announcement bears further testimony to the depth of appreciation and understanding that exists between our two governments and peoples.
"As we honour you and the people of India today, we recognise the prominent role that you have played, being India's first woman President, in shaping India and in inspiring people around the world," he said, commending Mrs Patil for playing an instrumental role in building the exemplary partnership which exists between the two countries.
President Patil said she was truly touched by the extraordinarily warm welcome and generous hospitality extended to her and her delegation.
"I bring with me the greetings and best wishes of the people of India for the friendly people of Seychelles, with whom we share long-lasting bonds of understanding and cooperation," she said.
"Mr President, the discussions I had with you, Vice-President Danny Faure and several cabinet ministers were wide-ranging and fruitful. These reaffirm the shared desire of both countries to further reinforce our partnership. Cooperation in the fields of defence and security, education and health, technical and economic cooperation, infrastructure development, tourism and in other mutually beneficial issues will continue to be the pillars of the edifice of our friendship in the years to come," she said.
"India stands ready to be a partner of Seychelles in its quest for faster socio-economic development and building its security capabilities through technical co-operation, financial and material assistance," she said.