Indian President ends fruitful visit
02-May-2012
She was seen off by President James Michel, Vice-President Danny Faure, speaker of the National Assembly Dr Patrick Herminie, chief justice Fredrick Egonda-Ntende, president of the Court of Appeal Francis MacGregor, ministers, chief of defence forces Brigadier Leopold Payet, members of the diplomatic corps resident in Seychelles, leader of government business in the National Assembly Marie-Antoinette Rose, leader of the opposition in the National Assembly David Pierre and members of the National Assembly as well as police commissioner Ernest Quatre.
Mrs Patil arrived here on Sunday afternoon and immediately embarked on a busy schedule which saw her attend a business forum for representatives of Indian and Seychellois business communities in the evening on that same day.
Just before she left, Mrs Patil went to the SPDF air wing hangar where she met Indian staff and Seychellois soldiers manning the surveillance Dornier aircraft on loan to Seychelles.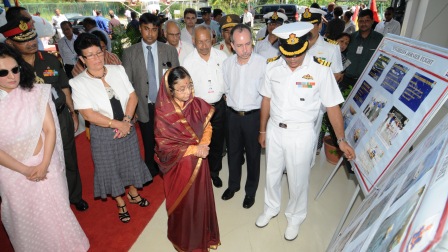 She was also guided through an exhibition showing how the air wing works by commander Anubhav Kumar.
Speaking at the venue, India's Minister of State for Information and Communication Technology Sachin Pilot said he was impressed by the spirit of the people of Seychelles, and the government here is working hard to better the lives of the people.
He said there is a lot of potential for cooperation in business and commerce between the two countries.
Mrs Patil held talks with Mr Michel and Mr Faure, addressed a special session of the National Assembly and witnessed the signing of a number of important agreements between her country and Seychelles.
She also attended a special reception hosted in her honour by President Michel at State House on Monday and yesterday she planted a coco der mer nut at the botanical gardens.
See further details of Mrs Patil's visit in other articles published in today's issue of Nation.
Nation will come back on the visit in future issues.