India offers US $75m package
02-May-2012
Mr Michel thanked India for the financial package – to support Seychelles' development – calling the aid a "generous gesture of friendship".
The two heads of state also discussed defence cooperation in the joint fight against Indian Ocean piracy, opportunities for bilateral economic cooperation as well as human resource development at a high level meeting which formed part of Mrs Patil's three-day state visit to Seychelles.
President Michel and President Patil addressed members of the Seychelles and Indian press following their meeting, and pledged to bring the cooperation between the two countries to greater heights. They also witnessed the signing of two memorandums of understanding, after which Mr Michel said: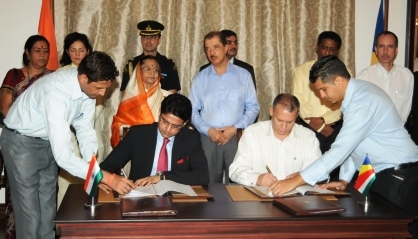 "Seychelles has positioned itself as a rock of dependability for India in the Indian Ocean region. India can always count on Seychelles, and I know that we can always count on India.

We share a strategic partnership, and also a natural partnership. All Indian Ocean states have been affected by piracy, and this scourge has also had an impact on trade around the world. We have reiterated our determination to defend our joint interests."
He thanked India for its support in the fight against piracy and noted the effectiveness of the Dornier aircraft on loan from India, for maritime patrol of Seychelles water.
Mr Michel also noted that India is helping Seychelles with the installation of a new radar system that will better protect its economic zone.
"India is also bringing critical support to our legal, judicial and police sectors. As two Commonwealth countries we believe that we can share experiences and develop capacity building to help improve Seychelles human resources in these sectors. This visit is also about strengthening the economic partnership between our countries. ….Opportunities exist to strengthen trade: we see India as a key partner to facilitate imports to Seychelles and thus play a key role in the reduction of the cost of living…. In times of global turbulence such as these, we must continue to connect our countries and peoples in new and innovative ways," said President Michel.
President Patil thanked Mr Michel for a warm welcome to Seychelles and spoke to the press of her first visit to Seychelles describing it as "a country of amazing natural beauty."
She assured the press that "India will always be the trusted development partner of Seychelles".
"My visit to Seychelles is to re-emphasise the strong friendship that exists between our two countries, which share the Indian Ocean and along with it, cultural affinities and ties of history. Today, this relationship is vibrant, wide-ranging, multi-dimensional and mutually beneficial. My visit to Seychelles reaffirms our common commitment to take our relations to new heights," said Mrs Patil.
President Patil noted that India and Seychelles have, over the past few decades, developed strong and mutually beneficial cooperation at both bilateral and regional levels.
"Given the progress in the relationship, both sides expressed the desire to work together towards elevating the bilateral relations to a strategic partnership for mutual benefit….we agreed that considerable opportunities still exist for further expansion, particularly in the areas of trade and economic cooperation… bilateral cooperation in the defence and security areas between Seychelles and India, especially in the context of combating piracy in the Indian Ocean region. Piracy in the region adversely impacts on us all. India reiterated its commitment to provide assistance to Seychelles in the defence sector, including training and deputation of experts."
President Patil also invited President Michel to visit India again, an honour which he has accepted.