India hails Seychelles' investment climate
02-May-2012
President Patil addressing guests and delegates at the business forum on Sunday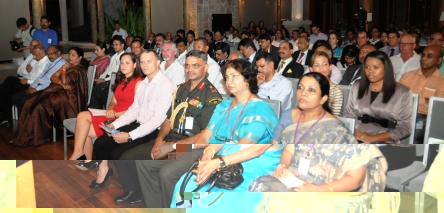 She was talking to members of the Indian and Seychellois business communities at a business forum at the Constance Ephelia Resort at Port Launay on Sunday evening, a few hours after she arrived in Seychelles on a two-day state visit.
Among those who also addressed the forum were the Minister for Finance, Trade and Investment Pierre Laporte, the chairman of the Seychelles Chamber of Commerce and Industry Dr V. Ramadoss and leader of the Indian business team ambassador V. B. Soni. Delegates included representatives of the Seychelles Investment Bureau.
"Seychelles also provides incentives to businesses including tax holidays, concessions and the repatriation of profits. All this makes the country an attractive destination for foreign direct investments. I call upon Indian investors and traders to tap into this market for mutual benefit," President Patil said.
Mrs Patil noted the meeting brought together businesspersons, investors and financiers both from India and Seychelles to foster economic partnerships for the benefit of both countries.
"We see this forum as an important step towards realising the business potential that exists between India and Seychelles," she said.
The two countries enjoy warm and friendly ties which cover collaboration and cooperation in diverse political, economic, scientific and cultural fields.
"The objective of my state visit is to expand and deepen our bilateral relations in all areas.
"We acknowledge the economic progress made by Seychelles. India stands ready to be a full and equal partner in the development of Seychelles through financial assistance and initiatives that support capacity building.
"With an exclusive economic zone of 1.3 million square kilometres, Seychelles offers a plethora of business opportunities in terms of both investment and trade. The government of Seychelles has identified areas for investments that have a high potential and on the basis of traditional resource base and competitive advantage, and global business trends, has targeted specific sectors for fast track development. These sectors should be the focus of attention for Indian businesspersons," she said.
"India's economic progress has been impressive. It is one of the largest and fastest growing economies, counted as one of the key drivers of the global economy. Today, we have large investments in education, health and rural development which are bringing their own benefits. We are undertaking a massive expansion in skills development as also in our physical infrastructure. We intend to do this through both public and private investments and also through public-private partnerships.
"We are, therefore, committed to creating an environment that promotes enterprise and investment. We are doing all this within a democratic framework that is focused on inclusion and participatory growth. Expanding economic activities in India offer opportunities for the rest of the world, and India hopes this will also benefit Seychelles and wider Africa," she said.
Mr Laporte said members of the Indian and Seychellois business communities need to set higher economic goals built on the two countries' solid economic foundations and good ties.
Noting the many economic shocks, recession and the rising fuel and commodity prices the world has to face, Mr Laporte told them they have to be innovative, finding new ways to create opportunities that can expand the wealth and prosperity of Seychellois and Indians.
"In such times, we cannot afford to be complacent. We need to be audacious, determined and innovative," he said.
"While we can congratulate ourselves on building solid foundations for our economic exchanges, we are here this evening to challenge ourselves to aim higher, go further and create more and more opportunities."
"I am pleased to say the relationship between our two countries is already driven by a shared belief that we can use our trading ties as a catalyst for our joint development.
"And the leaders of our two countries have expressed their determination that we must further widen these connections," he said.
He thanked the government and people of India for all the support and invaluable help we get from their country.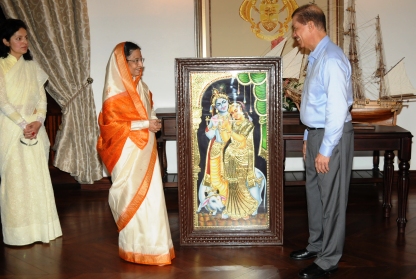 "In these times of unsustainable energy prices, it is clear our two countries also have a lot to offer each other – both in developing renewable energy business opportunities, and also exploring all the possibilities of a potential oil find in our waters."