Indian President plants coco de mer seed at the Botanical Gardens
02-May-2012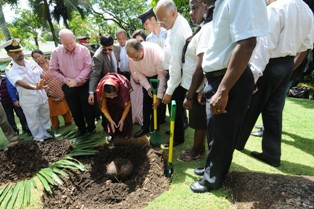 President Patil was accompanied at the Botanical Gardens by the Minister for Environment and Energy Dr Rolph Payet and Minister for Tourism and Culture Alain St Ange.
A plaque will be placed where the coco de mer seed has been planted to commemorate the event.
During her short visit at the Botanical Gardens, President Patil was given an overview of the gardens, the coco de mer and the giant tortoises found there.
Mrs Patil also received a coco de mer nut as a souvenir from Seychelles.
Also present to warmly welcome her were the Indian high commissioner Thanglura Darlong, principal secretary for environment and energy Wills Agricole, chief executive of the Seychelles Botanical Gardens Foundation Raymond Brioche and Seychelles' newly accredited ambassador in India Waven William.
From the Botanical Gardens, President Patil headed to the SPDF air wing hangar at Pointe Larue to view the Indian Dornier aircraft -- loaned from India to Seychelles – before her departure. President Patil was accompanied by Health Minister Mitcy Larue on her way to Pointe Larue.