SPTC gets 10 new buses from China
03-May-2012
The buses were officially handed over in a small ceremony held yesterday afternoon at the SPTC's depot at New Port.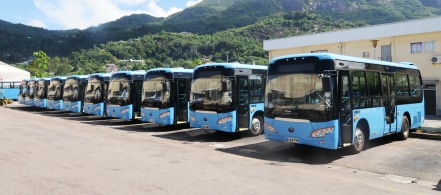 Present for the event were the Minister for Home Affairs and Transport Joel Morgan, Minister for Foreign Affairs Jean-Paul Adam, Chinese ambassador to Seychelles Shi Zhongjun, SPTC board members and staff.
The 30-seater, rear-engine buses, make Yutong, have been added to the daily commuters' bus fleet and will only operate on non-hilly terrain due to their low-floor characteristics.
At yesterday's ceremony, Ambassador Shi said when President James Michel visited China late last year, he signed an agreement in which China would donate ten buses to Seychelles.
"We know that Seychelles is now developing its public transport system and the best way to discourage people to use private cars is to develop a good public transportation system, and we hope these ten buses will help improve the situation," he said.
He then presented the keys of the new buses to the SPTC chief executive Geffy Zialor.
Minister Morgan said the buses are testimony to the excellent relationship between the two countries.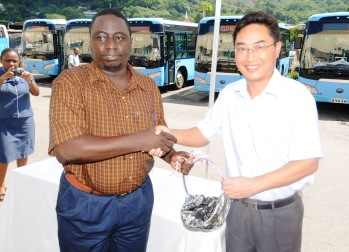 "According to the figures I have, some 60 thousand people use the SPTC's services everyday, which is a huge amount for us and we need to work very hard to continually improve the services we offer," he said.
"We assure you that the buses will be put to good use and well-maintained."
The minister added that the buses mark a new era for the SPTC, as it nears the launch of its Park and Ride facility for Victoria, which he said is a step towards alleviating the traffic congestion problems. The park and ride facility is part of a new traffic management scheme for Victoria, which Minister Morgan said he will give details in the coming months.
After a blessing by Father Edwin Mathiot, Mr Zialor said the buses will serve routes such as Ile Perseverance, Providence and up to Anse Aux Pins and Pointe Larue.
"We will maintain our prices for bus tickets and will also control our internal expenses, but we assure the public that our services will not be affected in any way," he said.

The SPTC said an engineer from Yutong was in the country for 15 days to attend to any defects as well as to carry out the pre-delivery inspection on the buses.