VP Faure notes 36 years of fruitful ties with India
03-May-2012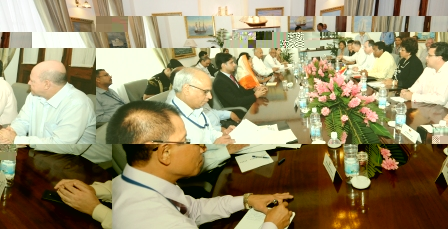 Mr Faure made the remarks during a bilateral meeting convened with President Pratibha Devisingh Patil at State House during her April 29-May 1 visit.
He said that people-to-people exchanges are central to the way forward in India-Seychelles relations, hailing the ties between the two nations as he expressed the appreciation of the people and government of Seychelles for the many fruits born from their long cooperation.
He specifically mentioned existing cooperation in the vital sectors of education, health, and defence through which there have been many training opportunities and support in human capacity development.
"We are very grateful for defence cooperation that recognises the benefit of mutual security in the Indian Ocean and also recognises the great strain that piracy has put on our development. We also congratulate India for having taken such a strong stance on piracy," said the vice-president.
Commenting on the US $75 million package from India, Mr Faure said:
"We are a small country with a small economy and this generous support will go a long way in assisting our development."
The bilateral meeting concluded in the signing of two memorandums of understanding on youth and sports, and on police, which will allow for greater youth and cultural exchanges between Seychelles and India, and training and capacity building support for the Seychelles Police in partnership with Indian Bureau of Police Research (BPRD).
President James Michel and President Patil witnessed the signing of the two agreements which were signed by the Indian Minister of State for Communications and Information Technology Sachin Pilot and our Foreign Affairs Minister Jean-Paul Adam.
Mr Adam visited the National Defence College and BPDR and held talks with the various departmental heads during his official visit to India in February.
On behalf of the Seychelles delegation, Mr Faure expressed his sincere thanks to India.
The Seychelles side was made up of the Minister for Home Affairs and Transport, Joel Morgan, the Minister for Foreign Affairs Jean-Paul Adam, the Minister for Education MacSuzy Mondon, the Minister for Finance, Trade and Investment Pierre Laporte, the Minister for Tourism and Culture Alain St Ange, the Minister for Health Mitcy Larue, the leader of government business in the National Assembly Marie-Antoinette Rose and the deputy speaker of the National Assembly Andre Pool.