David André live in concert on Saturday
03-May-2012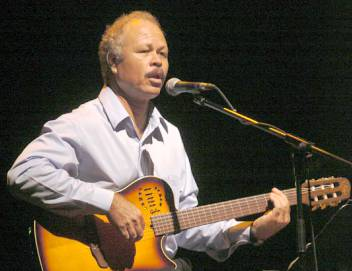 The live two-hour concert will feature performances of his very popular songs such as Sanson pour Limanite, Esper sa sanson, Dir Mwan en Parol and lively instrumental guitar pieces.
The new songs and music from his soon to be released new album include Latino and jazz influences which add colour and dimension to his poetic style.

Supported by a band, and with the participation of some young artists, David promises his fans a journey though different emotions, combining poetry, music and song and his guitar of course.
The concert in fact celebrates 40 years of David's passion for music and discovery of his love for the guitar as his chosen instrument.
As a young boy from Mont Buxton, enchanted by the sound of the local traditional instruments and music, David would spend hours listening to impromptu jamming sessions from older musicians who would meet as night fell and this habit continued through his school years, jamming in his turn with his younger friends at Seychelles College.
Following studies in music in France and Canada, David returned to Seychelles where his contributions toward the development of music and music education are many. His dream of setting up the School of Music along with other well known names in Seychelles music became a reality.
David is also the founder of the Choral and Music Society of Seychelles and he is the current chairman of SACS (Seychelles Authors and Composers Society).
The copyright issue protecting artists' work is close to his heart - David believes that along with the approval of legislation whereby artists are paid royalty fees, comes the responsibility for our artists to produce great, creative and original work.
David's achievements include the Seychelles National Anthem Koste Seselwa – a collaboration with Georges Payet; The "Greatest Gift" anthem for the National Council for Children, the National Sports Day Anthem – a collaboration with a class of students from English River School, his Missa Insularum (Messe des Iles), a choral work which combines the classical genre and the folk music of the Seychelles.
David's concert on Saturday is certainly a not to be missed occasion. See you there!
Tickets costing R150 apiece are available from La Cave à Vins, Rays Music Room, Photo Eden and Dam's Enterprise (ex Kot Do) in Market Street.
Contributed