Education's best performer happy with award
04-May-2012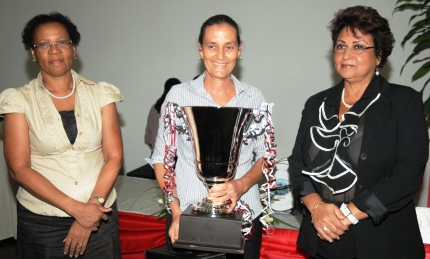 "I enjoy my work and I believe greatly in developing my personal values," she said.
Mrs Hermitte, a principal counsellor, received the Minister's Cup and other prizes during a special ceremony organised on Monday by the ministry to reward long serving staff of the headquarters.
The first-time event coincided with Labour Day celebrated on May 1.
Mrs Hermitte started working at the National Youth Service early in 1982. She occupied different posts there such as welfare officer and assistant coordinator.
She was transferred to the Ministry of Education headquarters as a counsellor in the early 1990s.
In 1996, she went to Australia to pursue her studies. She studied for a bachelor's degree in Social Sciences, majoring in Human Services.
She returned to Seychelles in July 2000 to resume her work with the Student Welfare Unit at the ministry.
Mrs Hermitte is described as a person with strong character, assertiveness and determination.
She has represented the ministry in various forums even to address contentious issues and dealing with challenging situations.
Mrs Hermitte was also rewarded for being one of the longest serving workers, having clocked 30 years.
Mrs Hermitte said she believes in discipline and that she has been inspired by many people who she has known such as her family and those she has worked with, namely Minister for Education Macsuzy Mondon and Benjamin Vel, former director of the Drugs and Alcohol Council.