Engineers get training ahead of fibre optic cable arrival
04-May-2012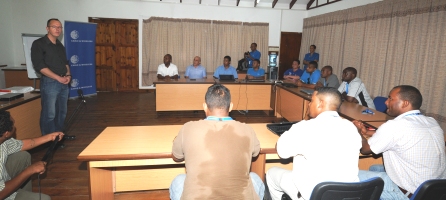 The three-week session is being held at the Exiles Club on the Cable & Wireless Seychelles (CWS) premises and is being led by Yves Mevel, trainer from French-based firm Alcatel- Lucent.
Mr Mevel has been working for seven years with this firm, which has been assigned to supply and lay the cable from Tanzania to Seychelles.
The cable is expected to reach here before the end of this month.
Present at the opening of the training session yesterday was the CWS chief executive Charles Hammond, who is also a board member of the Seychelles Cable System (SCS) company.
Among the engineers taking part in the workshop are representatives of the two biggest telecommunications firms in Seychelles -- CWS and Airtel Seychelles -- which are also shareholders in the SCS.
There are also engineers from the Department of Information Communication Technology and Zanzibar Telecommunication Company Limited (Zantel).
The high-power submarine cable system is called the Seychelles East Africa System (Seas) and will improve Seychelles' connectivity with the rest of the world.
Mr Mevel said after the training the engineers will be able to operate and maintain all equipment associated with the cable.
"They will also be trained on supervision in case there is a fault as well as on how to increase the capacity of the system."
"For two weeks we will focus on the station in Seychelles and later on the operation of the cable itself," he said.
He added that the Tanzanian engineers will operate the cable on their end.