Youth assembly approves three motions
04-May-2012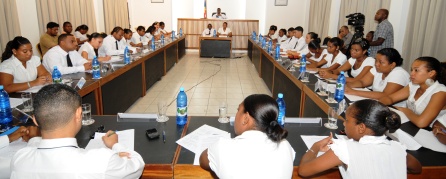 The sitting took place at the ex-Assembly Hall, National House and was attended by coordinator of the National Youth Assembly Jeanetta Ali, the assembly's new speaker Hansel Vidot, deputy speaker Nancy Cedras and about 25 youths representing different districts and institutions – secondary and post-secondary – in the country.
The first motion, tabled by Sharon Magnan representing Grand Anse Mahe, asked that the Ministry of Education work on a curriculum plan that will include time allocated to go over the school's code of conduct.
Her argument was that it would help reinforce and encourage good behaviour in students.
The motion however did not go through as many of her colleagues had conflicting opinions.
The second motion was presented by Beguita Melanie representing Pointe Larue who proposed that all sports centres and infrastructure be locked after use.
Beguita explained it was to protect those buildings from graffiti and vandalism.
The motion was passed.
The third motion was by Marie-May Anacoura representing the National Institute for Health and Social Studies (NIHSS). She proposed that both the Ministry of Health in partnership with the disability committees in all districts review the way in which help is distributed in term of benefits.
She emphasised on parents who were finding it especially hard to raise their disabled children on the little support given by the School for the Exceptional Child alone.
The motion was passed after the debate.
The fourth and last motion was brought forward by Juliette Alissop who was representing Port Glaud.
Her motion, which was approved, proposed the training of PSE teachers as the Ministry of Education has the means to do so.
She explained that this would help instil moral values and different skills which will benefit all youths in general.