Commission walks media over ethics tightrope
05-May-2012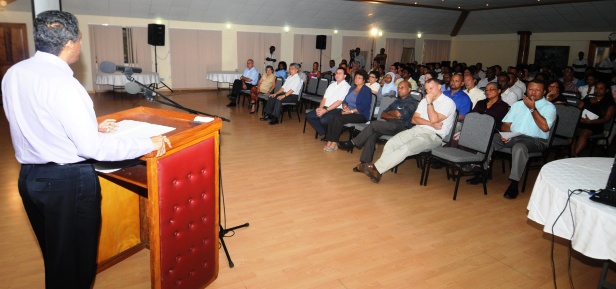 They talked about tough issues like whether crime suspects or convicts should be named, some arguing identifying them exposes their family members to stigma.
"The offenders should have considered such consequences before breaking the law," some argued.
Judge Andre Sauzier was one of the experts who gave presentations on Thursday and said accused people should be presumed innocent until proven guilty and should be spared identification, noting also that lawyers should not comment on cases before the court, when the media should report only the facts without commenting.
"When the case is over the media is free to even criticise judgments, but without inferring things like the judge was biased as that would add up to contempt of court," he said.
He said it is wrong to bring up things that a person did long ago, saying even ex-convicts should be considered to have gone through purification while in jail and should be given a fair chance to start life afresh.
Lawyer Bernard Georges said where the media has reported something a subject claims to be untrue, the burden of proving the inaccuracy should lie on the complainant rather than the media proving they are right.
"In the case of issues publicised in the interest of the public, it does not matter whether the media gets the facts right or wrong, as long as they can prove the matters were publicised "in the public interest."
The workshop delegates debated at length what is "private" when a public figure is concerned, but also heard that an issue can be of public interest if public assets are involved.
"If a driver misuses a public vehicle, he does not have to be a public figure for the issue to be private," said Mr Georges.
In the first and very interesting presentation, chief press secretary Srdjana Janosevic said it is difficult for any media to claim it is completely independent, and gave examples of international organisations who vet what reporters have submitted.
She stressed that she was speaking in her capacity as a journalist and not a government spokesperson.
Miss Janosevic adduced statistics showing world media rely too heavily on press releases, which Mr Georges later said is annoying but could be explained by lack of resources and other constraints within media houses.
Organised by the Seychelles Media Commission (SMC) to coincide with World Press Freedom Day, the exercise was led by Kenyan media expert Esther Kamweru, and launched by Vice-President Danny Faure.
Mr Faure told the delegates every right comes with responsibilities and the media must learn to juggle between the two.
He said the code that the SMC hopes to come up with should protect and promote the freedom of expression and the work of the media, "while giving a set of principles and guidelines for the work of journalists, editors and publishers".