Seychelles delegation meet Egyptian tourism minister
05-May-2012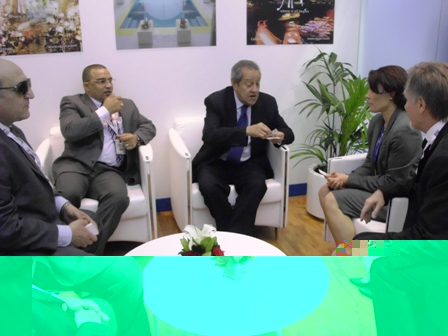 Part of these meetings included in-depth discussions with the Egyptian Hotel Association chairman, Tawfik Kamal, who expressed his association's keen interest to work with the STB.
A further meeting was held with the Egyptian Minister for Tourism, Mounir Fakhry Abdel Nourat in the presence of the Seychelles Ambassador to the UAE, Dick Esparon, and Pierre Delplace, general manager of Le Meridien Dahab Resort, Egypt, in which a special invitation has been extended for the Seychelles Minister for Tourism and Culture to visit Egypt.
Mrs Grandcourt briefed the Egyptian minister on the Seychelles 'Carnaval International de Victoria' and extended an invitation on behalf of the Seychelles Minister for Tourism and Culture for Egypt to take part in next year's 3rd edition of the carnival set for February 8 – 10, 2013.
Minister Mounir has welcomed this invitation and has expressed the willingness to have an Egyptian delegation to take part at the only carnival that allows other countries to come and showcase the diversity of their culture.
This year's Carnaval International de Victoria was co-hosted by the Indian Ocean islands of Reunion.
Further discussions centred on the similarities that the two countries share in tourism and their rich cultural diversity.