Youths get training in starting own business
08-May-2012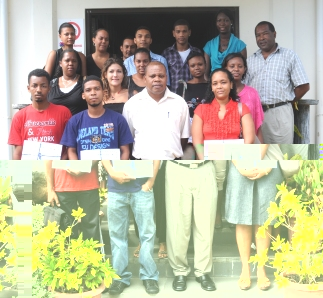 In a small ceremony held at the Youth Health Centre at English River, the 24 youths – who are all below 30 years old – were congratulated in learning how to set up and maintain their own small and medium businesses.
The training, an initiative of the Fonds Insertion des Jeunes (FIJ), which falls under a Francophone organisation called Confejes, started at the beginning of March.
The awardees were also tasked with preparing a business plan, out of which the best 10 will be chosen and submitted to the Confejes at the end of next month for a grant, which could be up to R60,000.
Apart from drafting their projects, those who took part also visited key business agencies, such as the Revenue Commission, Small Enterprise Promotion Agency, the Ministry of Health, Concessionary Credit Agency and the Seychelles Licensing Authority.

They also met the Seychelles Consul in Indonesia, Nico Barito, and discussed the possibilities of exchanges between young Seychellois and Asian entrepreneurs.
Local representative of the FIJ, Michael Benstrong – who heads the national FIJ commission -- said at the certificate presentation ceremony that the projects chosen for sponsorship will depend on a variety of criteria but a lot of emphasis will be placed on originality.
"Others before you have benefited from this project and today there are local entrepreneurs who have successful small and medium enterprises, who even employ other people and are still growing, all of whom began with a grant from Confejes," he said.
He also asked the other young entrepreneurs whose projects did not get chosen for sponsorship to remain positive and said there are local organisations ready to give them the necessary financial backing should they seek it.
"This training is an important milestone for you because you have learned the importance of marketing your business plan and so have an advantage to start your business," he said.

"You will meet many challenges on your way, but I hope to several years from now learn about your success stories," he said.