Agriculture staff learn to manage changes and time
08-May-2012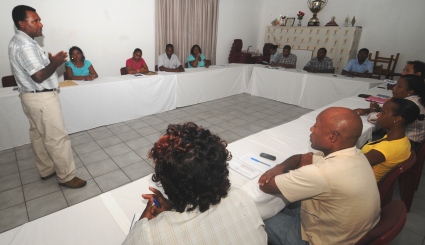 The meeting, organised by the extension section of the Seychelles Agricultural Agency, is being held at the National Sports Council's training room next to the Stad Popiler car park.

A private consultant is conducting the five-day workshop for staff of the livestock, land management, land protection and research sections.
Gilbert Port Louis, principal officer for extension services, said these meetings are vital as there are many changes going on in the agency and the staff need to adapt to them.
He added that no organisation is static and very soon more changes will come and they have to learn not only to deal with them but also to help the clients accept these changes.
"They will learn how to manage change to make a good impact and be helpful in their daily tasks."
There are modern systems in agriculture that will be put in place and new products are to be introduced to farmers, he said.
Mr Port Louis said the agency is moving towards environmentally friendly and sustainable practices and staff have to be well informed to explain such changes to the farmers.
"Nowadays farmers have lots of issues and our staff have to be well equipped to answer their queries and help them out."
He said some workers may also have additional responsibilities and the time management part will definitely help them to cope well with them.
Mr Port Louis said that the agency also has its objectives and the workshop will play a great role to ensure that these are met.