Seychelles makes a splash in prestigious Business magazine
08-May-2012
The issue 12, Vol 13 of the Arabian Business magazine dated March 25 has an official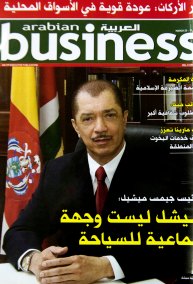 photograph of President James Michel splashed across its front cover, while eight pages are dedicated to stories about Seychelles.
"Having the front cover of such an important glossy magazine dedicated to Seychelles comes at the same time as the island's tourism board has launched new approaches to intensify the visibility campaign of Seychelles in the Middle East," the Seychelles Tourism Board (STB) has said.
In the different interviews she gave to the media on the sidelines of the recent ATM trade fair in Dubai, STB's chief executive Elsia Grandcourt said she appreciated the direct effect of having had the cover of the popular Arabian Business magazine dedicated to Seychelles.

"The Arabian Business magazine has today helped the STB propel Seychelles as the new destination for the Middle East and the Arabian world," Mrs Grandcourt said.
Seychelles has more air connectivity with the Middle East than with anywhere else in the world. Emirates has 13 weekly flights between Dubai and Seychelles offering First, Business and Economy Class, Etihad and Air Seychelles have six weekly flights offering Business and Economy Class between Abu Dhabi and Seychelles and Qatar Airways has seven weekly flights, again offering Business and Economy Class between Doha and Seychelles.
The Middle East hub gives Seychelles the possibility of saying that it is now but one stop away from anywhere in the world.
Seychelles is still enjoying an increase in its visitor arrival numbers. As at April 29 the island's Statistical Bureau reported an 8% increase in the Seychelles arrival figures over the same period as 2011.
Alain St Ange, the Seychelles Minister for Tourism and Culture, said that Seychelles is today more known than ever before in the four corners of the world.
He has complimented the team at the STB for working tirelessly to increase the visibility of the islands.
"Too often we took it for granted that the beauty of our islands was enough to fill our hotel beds, but this is not so. We have to work to keep Seychelles in the forefront and in the minds of every potential traveller looking for the holiday of his life.
"We have to ensure that travel agents everywhere will recommend Seychelles before other competing destinations. This is why we have Seychelles Tourism Board offices in our important tourist markets and this is why we continuously take part in tourism trade fairs.
Visibility for our islands is achieved only by us being present and by us being seen in the market place," Minister St Ange said.