Cabin staff urged to become country's best ambassadors-● "We will do it together," chant air hostesses and stewards on graduation
09-May-2012

That was after the local airline's chairman, Home Affairs & Transport Minister Joel Morgan, had congratulated and urged them to become the country's best ambassadors.
"You are the first contact with any visitor flying to Seychelles and your welcome, approach and attitude usually determine first impressions of our islands," said Mr Morgan.
He transmitted President James Michel's warmest congratulations to the six men and twelve women on their achievements, saying he is very proud of their performance which has been described as the best of any group trained at the Etihad Academy.
"You have the support of the government in the work you will continue to do and beyond that," said Mr Morgan.
That was the first cohort of Air Seychelles cabin staff sent to Abu Dhabi for six weeks' re-training.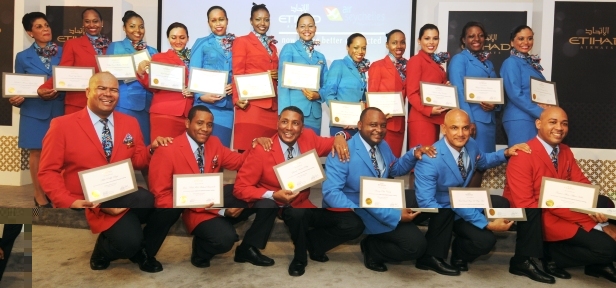 Though many of the air hostesses and stewards had been with Air Seychelles several years and in some instances even over two decades, they agreed at the end there were a lot of things they did not know in the fields of aviation safety, service and etiquette.
Other guests at the graduation ceremony were Air Seychelles' chief executive Cramer Ball; head of crew support and delivery, Francesca Moonsawmy; the manager for corporate affairs, Allan Renaud; and senior staff of Etihad Airways and the trainers.
Also at the academy's conference hall were the second cohort of cabin staff, twelve pilots and four engineers presently undergoing re-training there.
"These are challenging times for all of you," said Mr Morgan, recalling that after the partnership agreement was reached with Etihad, he had told President Michel; " We've found the right partner".
"Today, we can safely state that we are no longer in the third division, but have showed people at Etihad that we are capable of playing in the first division," he added.
He noted that in June, Air Seychelles will be taking delivery of its first Airbus A-320. That is similar to the Etihad aircraft flying to Mahe, but with a slightly different seating configuration.
He said that having acquired new skills, Air Seychelles staff will be better equipped to meet the challenge of "flying the Creole spirit".
Mr Morgan said another such plane is set for delivery in January.
"Air Seychelles is set to grow and Seychelles is to become a regional hub," he said.
Congratulating the graduates, CEO Ball said having undergone in-depth training in air safety, service, style and etiquette, the cabin crew is set to come out with high standards, which will eventually turn Air Seychelles into a high class airline.
Noting that the airline has been through some trying times, Mr Ball said the cabin staff, though a little bit unsure of themselves at the beginning, soon bonded with the trainers, impressing them with the unique and popular Creole warmth.
"In the end, you turned out to be the best group that they've trained," Mr Ball remarked.
He thanked Etihad for helping to turn Air Seychelles around and urged the graduates to infuse the spirit and standards throughout the whole of Air Seychelles.
A well-known and long-serving air steward, Mike Payet, on behalf of his colleagues said Monday's graduation was the culmination of a great learning experience.
"We arrived here, believing nobody could teach us anything, but events were to prove us wrong," he said.
"There are so many technicalities that we've learned, besides the forging of our characters with more features, such as determination. None of us thought of giving up," said Mike.
The " Star Trainee Award" was won by Kelfa Mirabeau, who was warmly applauded by her colleagues and everyone present.
A media team from Seychelles Nation and SBC travelled to Abu Dhabi with Mr Renaud, who spared no effort to make the trip and reportage a success.
They flew with the third batch of cabin crew trainees and had the occasion to watch some of the training.
We will publish a special feature on the Air Seychelles staff re-training programme in Saturday's issue.