Environment gets funding for a national database
09-May-2012
This is a consultancy being undertaken under two separate projects (the Capacity Building CB2 project and the Biodiversity project respectively) managed by the GOS-UNDP-GEF Programme Coordination Unit (PCU).
It is in line with one of the project outcomes to assist the Department of Environment and other relevant authorities to develop appropriate GIS tools for biodiversity conservation in Seychelles.
The database will be based on PostgreSQL/PostGIS and Open Source Software, tailor-made to be the main source of environmental data for the Department of Environment.

It will store data on sensitive areas, species distribution and location, developments and their environmental impacts, wetlands etc and it shall also be used to ease reporting to the multilateral environmental agreements (MEAs) and conventions that Seychelles is signatory to.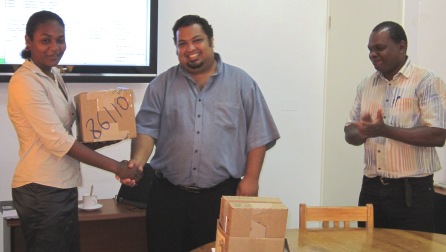 In a small ceremony held recently at the Department of Environment attended by key stakeholders, Betty Seraphine, the project manager for the Biodiversity Mainstreaming Project at the PCU handed over the equipment and software to Justin Prosper, the principal GIS officer for the Department of Environment in the presence of the GEF Focal Point, Didier Dogley.
The ceremony was held after a demo presentation of the database by the local company contracted for its development, SPACE 95.
At present the various sections/divisions within the Department of Environment are maintaining small databases, excel spreadsheets or other records (both digital and hard copies) for various environmental data and all these shall be incorporated into the main database once this is completed.
An assessment of the currently available environment datasets at the Department of Environment, and its affiliating partners, at the environmental NGOs as well as with individual local experts, was undertaken at the earlier stage of the project last year.

NGOs willing to share any environmental data will also be able to have access to the database.
The national environment database will have direct web-link with the geo-database being hosted by the Ministry of Land Use and Housing, also developed with financial assistance from GEF.
Maps for the sensitive areas, areas of outstanding natural beauty, the wetlands and for species distribution shall be hosted within the MLUH geo-database complete with the relevant GIS layers. These maps can be accessed via web-link from the environment database.
The whole environment database project (equipment, software and database development) cost approximately $18,000.
The GOS-UNDP-GEF Programme Coordination Unit has been quite active in the past few months in undertaking and supporting various activities and initiatives in Seychelles for the protection of the environment and biodiversity.
The PCU, as it is well known, was set up in 2008 by the government of Seychelles with support from UNDP in order to streamline processes, build capacities and achieve operational efficiency and cost-effectiveness in the implementation of the various ongoing environment projects and the development of new ones.
It has a full Seychellois management team, and is responsible for over 75 percent of the overall programme delivery of UNDP projects in Seychelles.