Children's Homes Foundation re-branded -New name better reflects foundation's mandate
10-May-2012
The foundation has also launched a new logo, which together with the new name, came about after a repositioning exercise which reviewed its current programmes, activities and projects and approved by the executive committee.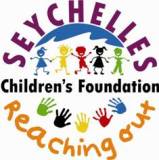 The launching ceremony for the re-branding of the foundation was held yesterday afternoon at State House in the presence of the foundation's patron First Lady Natalie Michel, principal secretary for social development Linda William-Melanie, chief executive of the foundation Noella Gonthier and executive committee members.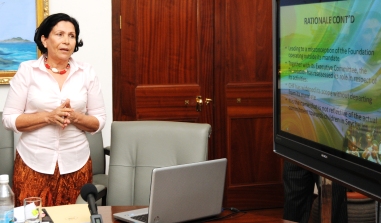 Listening to a presentation by Mrs Gonthier
In a presentation, Mrs Gonthier explained that since its beginning in 2006, the CHF has worked vigorously to improve the lives of children in homes and also looked after the interests of other children needing special attention.
"To date CHF has different programmes helping different groups of children at different levels. However, the current name of the foundation does not reflect the active help and support given to other children besides those in homes, leading to a misconception of the foundation operating outside its mandate," she said.
The main programmes and activities of the foundation currently are mainly reaching out to different groups of children, helping to tackle issues children are facing today, giving a voice to children by advancing causes impacting their lives, supporting important causes like advocacy and research, and partnering up with concerned partners to ensure that appropriate action is taken on their behalf.
"The CHF has widened its scope without departing from its mandate and we have changed our name to give justice to the wider group of children it serves, so as to better reflect what we do," said Mrs Gonthier.
"The new approach actually promises a stronger voice in safeguarding their interests, but we wish to emphasise that the cause of children in 'homes' and other children needing special attention remains an important focus of the foundation," she added.
The new name and logo was officially launched by Mrs Michel, who also chairs the executive committee.