Plans proposed to enhance Beau Vallon beachfront
11-May-2012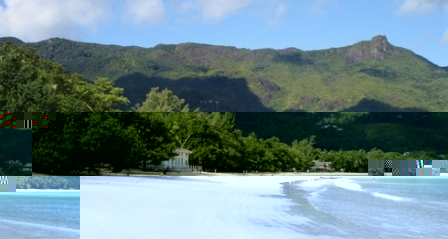 The aim is to improve walk ways and pavements, lighting, beach front replanting, security and life guards and the various public infrastructure of one of the country's most dense and popular beaches.
Present at the meeting, which took place at the Berjaya Beau Vallon Bay Resort & Casino, were the Minister for Home Affairs & Transport Joel Morgan, the Minister for Tourism & Culture Alain St Ange, and tourism operators of north Mahe.
In his opening remarks at the meeting, Minister St Ange spoke of the urgency of joining forces to make Beau Vallon the 'golden mile' we can all be proud of.
''We need an integrated approach. This will see the police and its life guards work hand in hand with tourism operators alongside the district administration and the local member of the National Assembly. What is being proposed will protect businesses and will enable everyone to consolidate their investments," Mr St Ange said.
Minister Morgan said that the future of Beau Vallon would be safeguarded by everyone working together.
''Government is today opening new doors and proposing new joint actions. All stakeholders should take their side of responsible behaviour to enhance Beau Vallon and make it the tourist area it deserves to be. Beau Vallon beach is today not as safe as it can be; this is why we are looking at a police outpost and life guard stations. Together we need to look at a comprehensive approach to improve infrastructure, improve law and order and the general esthetics of Beau Vallon. Everybody should take their side of responsibilities and we should come together as a solid team to really enhance this area,'' said Minister Morgan.
Private sector business owners from the tourism industry attending the meeting raised their concerns in regards to the social ills starting to show signs at Beau Vallon beach.

They said that there were many tourism establishments concentrated in this area and felt it was essential to bring to the attention of Minister Morgan and Minister St Ange so that necessary actions can be taken.
In terms of law reinforcement in the Beau Vallon vicinity, both ministers have agreed on the urgency of setting up police and lifeguard outposts on the beach front area.
Minister Morgan has given the go ahead to his land transport officers present to come up with a plan of action, to design light poles on designated areas on the Beau Vallon beach and to submit plans for new boardwalks, pavements and walkways.
He also said that the authorities would look at measures to alleviate noise on beaches which has become a public nuisance to residents and visitors.
Before the meeting adjourned, both ministers agreed to come up with a comprehensive plan of actions on all the points raised during the meeting which would be presented to interested tourism stakeholders.
The meeting was called by the Seychelles Hospitality and Tourism Association after discussions with the Ministry of Tourism & Culture.