Seychelles honours one of its original collections of children's story books
12-May-2012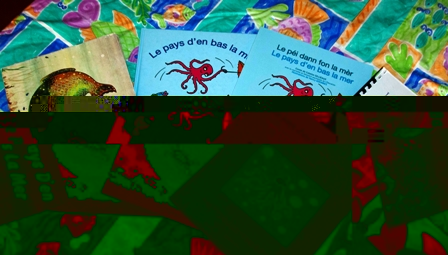 The author, Colette Gillieaux, who has been living in Seychelles for many years, said this children's story book collection, written in Creole or Kreol Seselwa in 1982 and published in 1991, tells the story of disabled animals.
Mrs Gillieaux explains that the book was the first ever publication written in Seychelles for disabled children ''to give them hope and to be unencumbered by their disabilities."
The Belgian born author, whose house has been turned into a gold mine of special collections ranging from literature, scientific and that of her personal children's and research collections, welcomed the Tourism and Culture Minister Alain St Ange at her home in Machabée to explain the content of her historical and cultural research works dedicated to Seychelles.
Gillieaux couldn't help bringing to the attention of Minister St Ange copies of the story book translated into sign language or Braille for blind children and in relief writing for children with visual impairment.
''In 2009 during a book fair in Reunion I came across Geneviève Ceccalbi – a child specialist who was impressed with this children's collection for the disabled. Her idea was to seek the approval of a disabled association – L'Association des doigts qui rêvent – and have this book translated in French for the Reunion island's disabled. The book now appears in 28 languages including Mandarin," said Mrs Gillieaux.
In 1982, all schools in Seychelles had their own collection of 'Le pays D'en Bas La Mer' in Creole, French and in English.
Mrs Gillieaux explained that 2,000 copies of the book were printed for the children of Seychelles, but she possesses the only translated copy in Braille because the books need to be printed in batches of 500 and there is an insufficient number of blind children in Seychelles to print the book.
Mr St Ange has thanked Mrs Gillieaux for the tireless work for Seychelles and for her love of Seychelles.
"We value your work and your writings on so many of our historical sites and of our history," Minister St Ange said.
Mrs Gillieaux has announced that Geneviève Ceccalbi, the mastermind behind the translation of the book in its first foreign language, will be on an official visit to Seychelles in October 2012.
She has expressed her desire to see a revival of this collection which according to her ''is slowly coming out of circulation because of a lack of newly printed documents.''